What exactly is Clickfunnels! I noticed that some people search for the phrase "what is a Clickfunnel"? or "what are Clickfunnels"? basically, there is no such thing as a Clickfunnel, it is Clickfunnels. And if you are wondering what is Clickfunnels here is the answer:
What is ClickFunnels and how does it work? The right way to use it
What is Clickfunnels?
Clickfunnels is an online landing page(a page that potential customers land on) and mainly sales funnel builder through which businesses can build webinars, market, sell, and deliver their products/services online using a drag and drop editor.
It's designed for people who have an entrepreneurial mindset and potentially a product to sell(physical or digital). However, they lack the technical and design skills needed to build an online business.
Clickfunnels automates the whole sales process and is going to save you time to sell and market your product especially if you are a newbie. Clickfunnels simples the process by providing users with funnel options that are pre-built for creating landing pages, sales funnels with upsell/downsell functionality, webinars, membership sites, subscriber list and email marketing in one place.
The biggest advantage of using Clickfunnels is the fact that it is easy and user-friendly and provides everything you need to market your product in comparison with other options like a website that requires a web developer to build your website from scratch for your business.
All of these funnels are completely different from each other and completely customizable for different niches.
Also, If you take payments online for your products and services ClickFunnels making it extremely easy to integrate with Paypal, Stripe, and other types of payment processors.
This product also does have some drawbacks, which I'm going to cover later on.
What can I do with ClickFunnels?
Using Clickfunnels you can create regular websites, squeeze pages, landing pages, opt-in pages, webinars and membership sites, etc. And for anyone with any level of technology, it's easy to build sales funnels with a variety of pre-designed, highly customized funnels.
ClickFunnels is often used by entrepreneurs and companies to sell and promote products or services online. Some businesses use it to boost their lead generation campaigns for their companies.
ClickFunnels has been so popular since it delivers an all-in-one marketing approach during this online marketing boom.
For common web funnels often you need to use these forms separately :
Order form
Shopping cart
Web hosting for you website
Page builder
Content management system (like WordPress)
Email autoresponder
Web analytics
Other marketing tools
ClickFunnels is the combination of all of these tools, so that you can build marketing and sales funnels in a single dashboard from the ground up.
ClickFunnels was co-founded by the digital marketer and entrepreneur Russel Brunson in 2014. On its first day before attracting quite a few investors, Brunson self-funded this SaaS company.
And Forbes in 2017 reported a valuation of $360 million for ClickFunnels.
Who needs ClickFunnels?
This tool can be used by every company with an online presence. Six out of ten businesses do not survive to celebrate their second birthday.
It is partially due to the rapidly changing tastes and desires of consumers along with the high degree of competition, which makes it impossible for businesses to thrive for that long. Businesses are at risk closure unless they are is able to evolve. Some of these innovations are the use of ClickFunnels.
What is a sales funnel?
To make it simple, a sales funnel is a path that every potential visitor should take in order to buy a service or product. Some visitors leave at the very first step, some leave halfway through and some get to the last step. The sale process is like zero and one, you either sell or you don't. If the potential customer gets distracted for any reason halfway through and doesn't get to the last step the sale will never be made.
A sales funnels is an all in one solution to your sales process.
Sales funnels tend to have a higher conversion rate because sales funnel has normally only one page that goes directly to the offer so the potential does not get distracted by other options.
It's interesting that a lot of popular products on Clickbank(which is an online retailer with a global presence and an extensive affiliate network) use Clickfunnels to sell their products. Some of them are selling millions every year using this platform like Organifi and Mayan Code System.
As you can see the visitors are directly guided to the offer without any distraction by other options and hyperlinks to anything else.
Why would you need to build sales Funnels for your Online Business and what are the options?
Well, just like when selling in person, you need to reach the right potential audience, build trust and relation with them, show the value of your products and convince them to buy. You definitely don't want to do that in person online. Doing that online requires technical coding, skills, designing landing pages(a page where customers land on), payment integration, advertising, and other things
You can either get someone(if not a team of developers) to create a website for you which is going to cost you a lot of money or use a sales funnels builder software like Clickfunnels.
Why Sales Funnels Are Better Than Websites For Your Business?
A website is made up of multiple pages that include "contact us", "about us", list of services and products, blogs and many more pages. When visitors land on a website's home page they may visit other pages like about us page or browse through other product catalogs or even may end up reading some blog posts. As a result, some visitors may get confused and may fail to find what they were seeking.
If you are paying for your traffic and the visitors could not find the offer this means you were losing potential customers and as a result have a lower conversion rate.
On the other hand, a sales funnel is designed to minimize distractions and guide the visitors to the main direction which is product offer and getting sales. Therefore, sales funnels are proven to have a considerably higher convention rate in comparison with a website.
How Much Is Clickfunnels?
If you are wondering what does Clickfunnels cost? Clickfunnels offers 14 days free trial so you can test out their platform to see if it is a good fit for your business. It offers different packages from $19 to $297 however, the most common offer one is $97, you can see the pricing packages below.
Also, if you select the yearly subscription with ClickFunnels you can save $149 of the funnels builder or $567 on the entire ClickFunnels suite.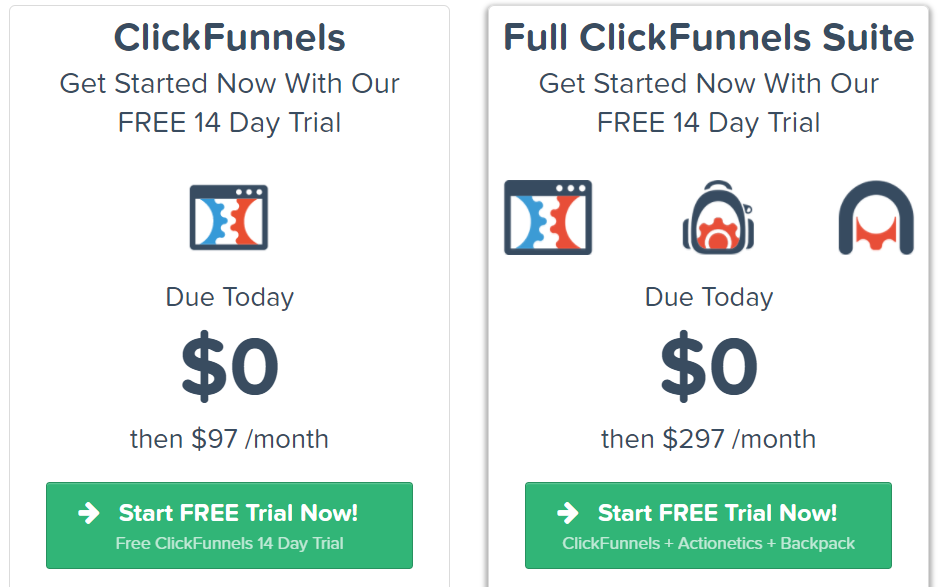 Clickfunnels Pricing Packages:
How much does Clickfunnels cost per month?
Clickfunnels offers two packages: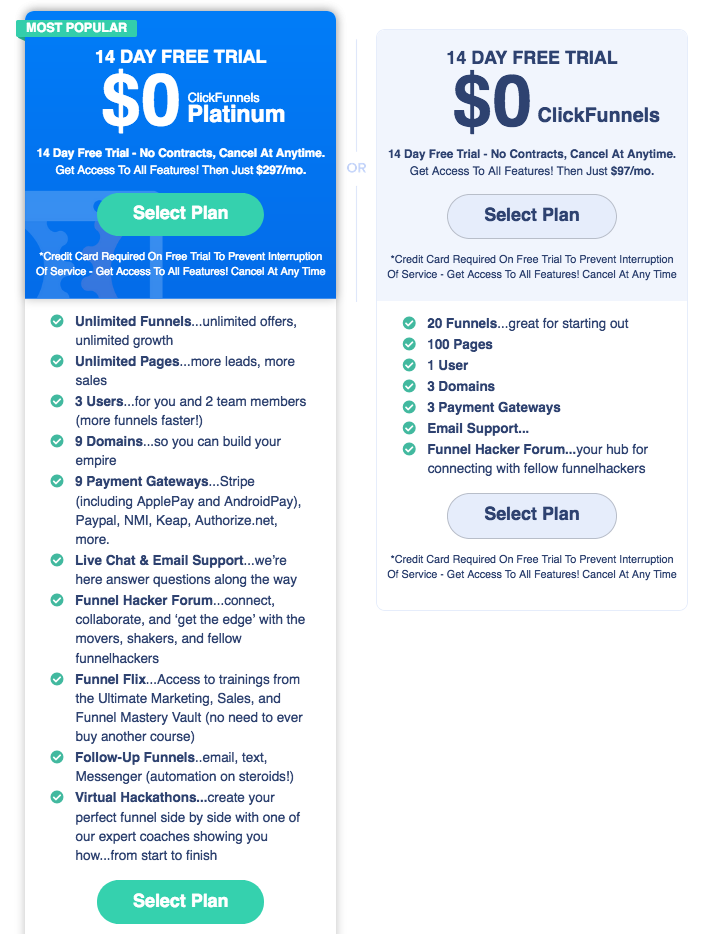 Start Up – $97/month
✔️20 Funnels
✔️100 Pages
✔️20,000 Visitors
✔️3 Custom Domains
✔️Sales Funnels and all the features mentioned above.
Enterprise – $297/month
✔️Unlimited Funnels
✔️Unlimited Pages
✔️Unlimited Visitors
✔️Unlimited Custom Domains
✔️All Startup features, + :
✔️Priority Support
✔️Priority Template Requests
You can start with the free trial to test out the platform and then start with the basic package. If your business started to take off and you needed more than 20 funnels and more than 100 pages you can upgrade to Etidon Suite.
Here is a complete guide on Clickfunnel's pricing and bonuses.
How Does ClickFunnels Work?
I've personally used a number of different page builders like Thrive Architect and Builderall but I would say ClickFunnels is the most complete solution suite for creating sales funnels.
Building your first digital sales funnel is a simple three-step process:
1: You pick a pre-designed template for your sales funnel based on your niche. I think ClickFunnels has a full suite of options for any niche site from real state to medicals and even the digital courses and webinars
2: The second step is to choose the style of the page design you want. I love the drag and drop functionality of ClickFunnels software. It is much easier than using WordPress natively and you literally build the page as you are looking at it.
3: Modify the pages the way you want by adding relevant content, images, video and of course call to action(add to cart button) save the change hit publish and BOOM you are done.
Can you make money with Clickfunnels?
Here is a list of methods through which you can make money from Clickfunnels. How much money you are going to make depends on your level of skills and knowledge in the online market world.
Sell physical products: If you have any physical product you can sell it using this sales funnel. Of course, you may need to have sales or down sales and your own methods and strategies to increase sales. You can use Free-plus-shipping or offering a free ebook using PLR products to create a list for future sales.
Selling Info/digital Products: You can sell any type of information product through Clickfunnels. A lot of popular products on Clickbank(which is an online retailer with a global presence and an extensive affiliate network) use Clickfunnels to sell their products. Some of them are selling millions every year using this platform like Organifi and Mayan Code System(you can even see the Clickfunnels icon if you check out this offer).
Selling high ticket coaching: High ticket coaching can be really lucrative if you know what to do. Traditionally it was hard to set up a funnel that would lead to application and to a phone call. You can use rebuild funnels inside Clickfunnels for your coaching, this is a total time saver.
Selling membership program: Membership sites is a great method to make money when you sleep. To create a membership site, you can you Clickfunnels membership funnel to create a continuity program.
Webinars: This is probably one of the most popular tools to sell high ticket offers. Some people push their audience to the application after the webinar and close the deal on a phone. Clickfunnels makes it possible to create a webinar to gather all the potential customers into the same room and pitch whatever service or product you can offer.
Clickfunnels affiliate commission: If you don't want to sell anything online you can still promote Clickfunnels and make affiliate commissions from it. It also provides comprehensive free training through ClickFunnels Affiliate Bootcamp Summit. This FREE training course will teach you how to use Facebook and Instagram ads to promote Clickfunnels and basically any product online.
How much can you make with Clickfunnels?
About 100+ companies made over 1 million dollars using Clickfunnels. They are given the Two Comma Club Award in one funnel built within ClickFunnels.
ClickFunnels were utilized by over 60,000 businessmen and companies. It's not difficult to make $10k using Clickfunnels, I assume that everyone can do this. When you have an appropriate approach and a giving mindset attitude followed by MASSIVE ACTION.
So what is giving mindset?
In any field of life or industry, what most people do not know about success is that you will give more than you intend to be offered.
If you want to get more dollars in return, give your customers more value. You must burn more energy than you consume if you want to lose weight. So there is so much opportunity to make hunders of thousands if you not millions using Clickfunnels if you have the right approach.
Is Clickfunnels safe?
No security or private data breaches have been reported by Clickfunnels to this date. Also as I mentioned above there are big names in the industry that are using Clickfunnels to sell and market their products without any security issue. So the short answer to this question is YES it completely safe to use this software.
How many people use ClickFunnels?
At the time of writing this, there over 140,000 active users, using Clickfunnels. Over 7M funnels have been created using this platform, over one billion contacts added to their database and over $6B has been processed. I think this one of the reasons to consider Clickfunnels safe.

What does Clickfunnels do?
Here is the list of things you can do using Clickfunnels:
It enables you to easily and efficiently create professional landing pages to sell products or to capture potential customer 's email and create a list.
Allows you to follow up with your current list of potential customers through email, text messages, Facebook messenger and etc.
It enables you to take new customers through multiple sales processes like up sales, down sales so that the size of the order can increase from each customer. This can also help to increase customer lifetime value.
To make it short, it will increase your audience, your sales, and your business by leveraging correct sales techniques. It is a platform that allows creating landing pages, sales pages, your customer list, and followup series without having any technical knowledge.
Is Clickfunnels worth it?
If you are ready to create funnels and sending traffic to it, Clickfunnels is definitely worth the investment. However, if you are a complete beginner to digital marketing with no business and would like to only capture leads and create an email list for your business you may need to consider other options like Getresponse.
When you realized what are you trying to achieve with your business and developed your strategies with a few thousand social media followers and potential customers you can start with Clickfunnels basic package. There is no need to start with $297 packages since the basic package allows you to create up to 20 funnels. That should be enough if you are just starting out.
You can also integrate the basic package with autoresponders like Getresponse for your email automation campaigns. In order to handle email automation, you may want to consider providing free value to your list. You can do that by providing free related ebooks or pieces of content in exchange for someone's emails. This is one of the most effective methods to get someone to opt into your email list.
If you are not sure how to create a free ebook or information you can always use PLR products with reselling right so you are officially allowed to use it for your list without any copyright issues.
Is Clickfunnels legit?
Clickfunnels is definitely a legit offer. It's funny when something does not work for some people they call it scam. As we already mentioned there are many successful businesses using Clickfunnels to create their sales funnel so for a couple of years so it is definitely not a scam.
Clickfunnels offers a wide range of free training to new subscribers that include funnel hacking, youtube videos, and affiliate Bootcamp. Clickfunnels have a Facebook group that answer all the related questions by an active community. It is highly recommended for everyone who is interested in understanding Clickfunnels to check out the DotCom Secrets and Expert Secrets books that are offered by Russel Brunson. We will look into the details of these books later on.
Can Clickfunnels replace your website?
The short answer is no. You can use Clickfunnels to create websites but it is not the best option to create a website. If you want to start a business you may need to consider other options like WordPress to create your website. Then, use Clickfunnels to create your sales funnels and send traffic to it.
Clickfunnels Features:
Now that you know what is Clickfunnels it's time to look into the features of it:
Clickfunnels Templates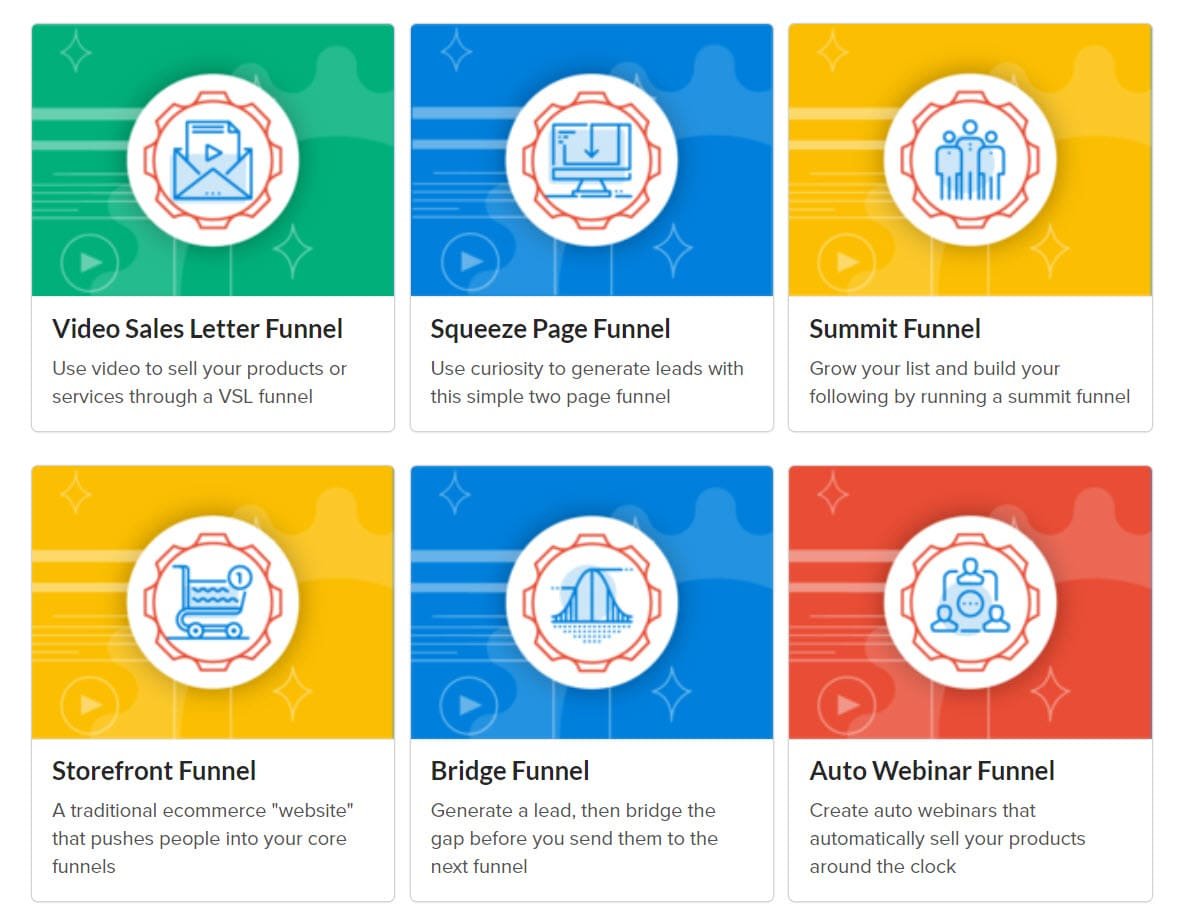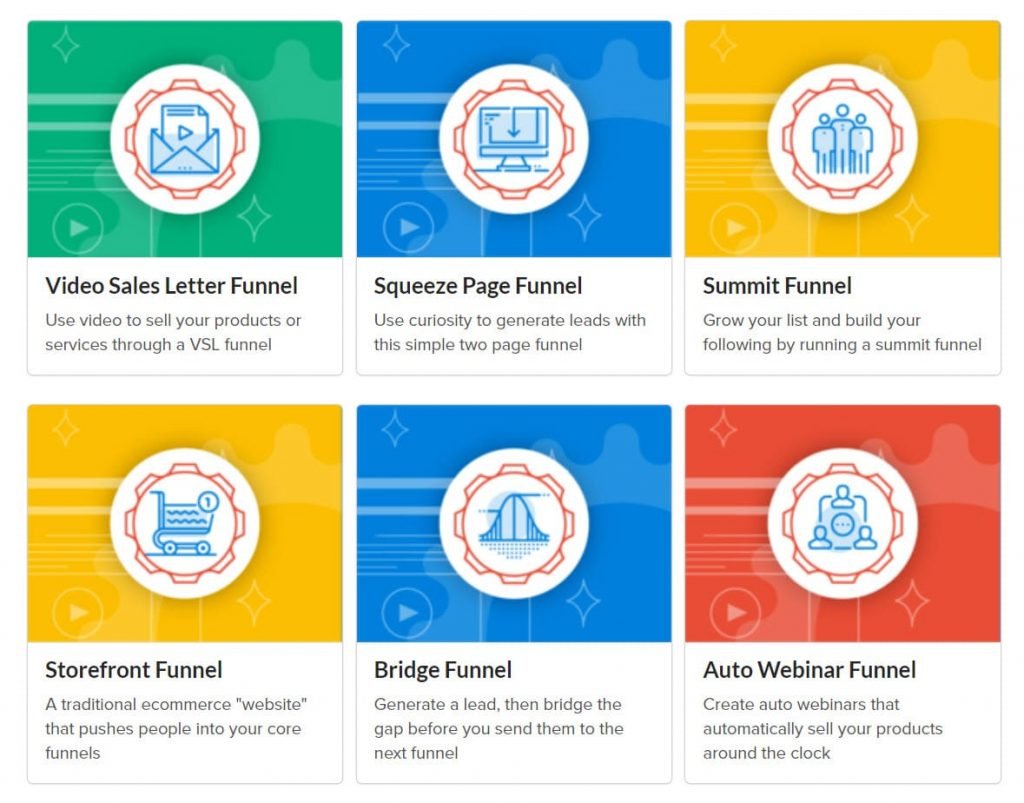 Clickfunnels provides a range of pre-made funnel sets and matching landing page templates. These templates include lead pages, sells funnels, webinars to help you find the right funnel for not only your niche but also to ensure you achieve your objectives.
Templates are pretty customizable however, Clickfunnels does not provide as many temples as Builderall., but the ones that are provided through Clickfunnels are fully customized for conversion.
If you are simply looking to create funnels, then Clickfunnels highly optimized funnel sets and landing pages are perfect, in this case, Clickfunnles perform better than Builderall.
Drag and Drop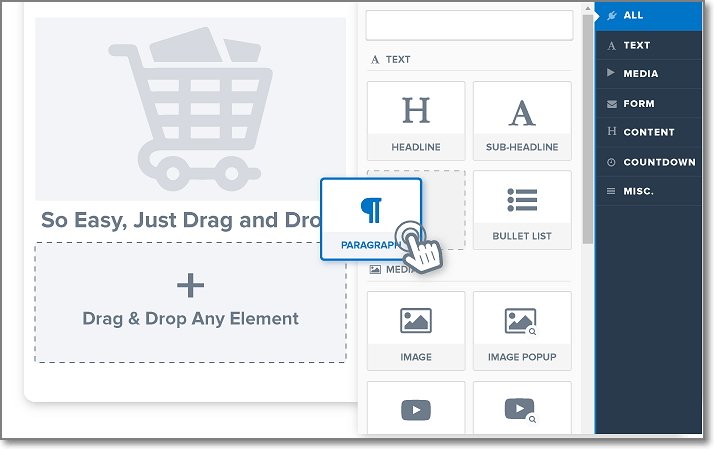 Clickfunnels provides one drag and drop editor to customize all of the templates and funnels. With this feature, you can add different design elements into the page and easily resize and position the elements.
Clickfunnels Shopping cart
As I mentioned before Clickfunnels focuses mostly on sales funnels. So if you use e-commerce or even Shopify dropshipping shopping cart Clickfunnels will do the job for you.
You can triple your Shopify sales with Clickfunnels since you track and send follow up emails and up-sells to your current customers.
Moreover, you can use Clickfunnels to generate sales and track your customers directly from the sales page that you create(this is a tool that most drop shippers are missing).
In addition, you can create your affiliate pages through Clickfunnels for your products and avoid using sites like Zaxaa and Clickbank to save more.
Also integrate Stripe for your shopping cart for FREE!
This feature is probably one of the greatest features of this platform.
Read Also: What is Dropshipping & How To Create a Dropshipping Store with Shopify & Aliexpress(Start Your Dropshipping Business Today!
Does Clickfunnels work with Shopify?
The short answer is YES. You can integrate Clickfunnels with Shopify so that you can send shipping information from Clickfunnels order directly to Shopify account for shipping. Here is a quick demo on how to integrate this two software together.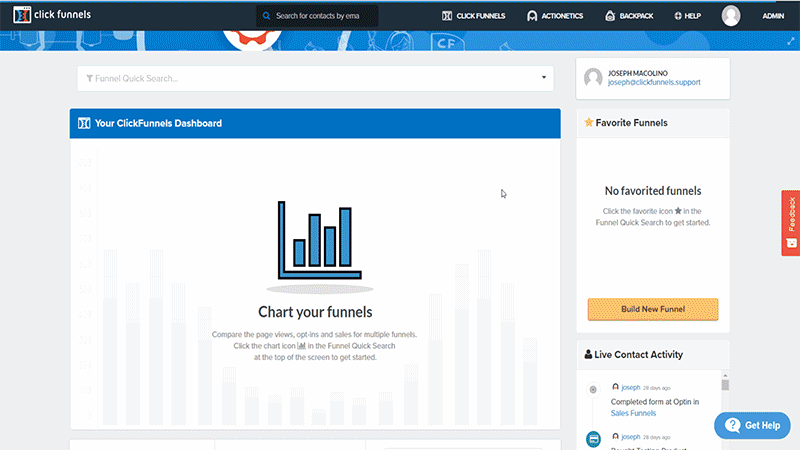 Clickfunnels Memberships
With this feature, you can use Clickfunnels to create and sell your online course.
There is no need to pay for other platforms like teachable to sell your online course. You can also create your affiliate link for your affiliates to promote your course.
Guys like Kevin David is using Clickfunnnels to sell and promote his Amazon FBA and Drop shipping courses as well.
Clickfunnels Backpack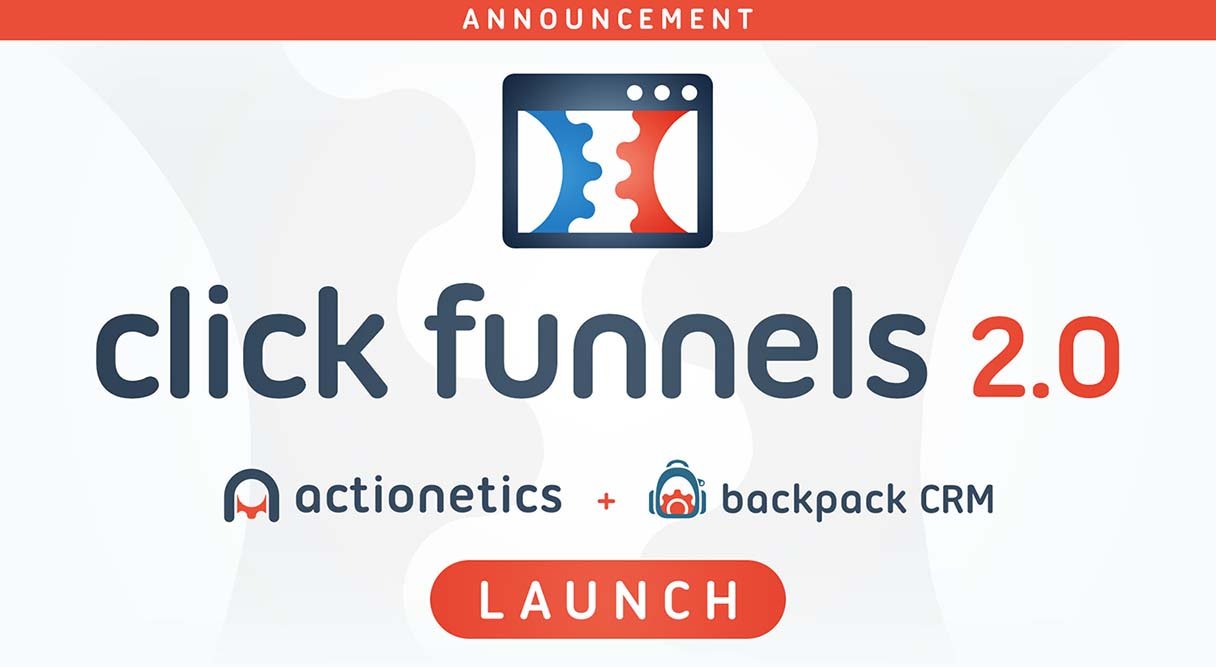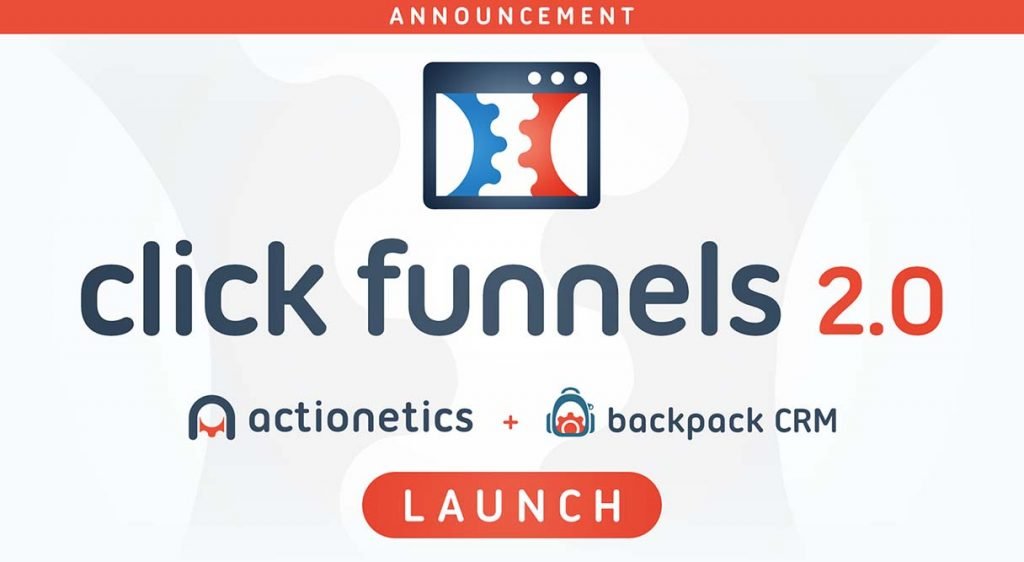 This feature is one of the most interesting parts of this software especially when it comes to sales funnels solutions which is not available in many other softwares.
Imagine you have a product that can be a physical/ digital good or even course. With this feature instead of spending a lot of money advertising, you can your own affiliate marketing system.
And if you don't know what's affiliate marketing? Affiliate marketing is a type of performance-based marketing in which a business rewards one or more affiliates for each visitor or customer brought by the affiliate's own marketing efforts
With Clickfunnels backpack you can easily set up your affiliate program and integrate with your funnels and email automation.
Using this feature is a great method to promote your products and services while saving money on your marketing budget.
Clickfunnels Email Marketing With Actionetics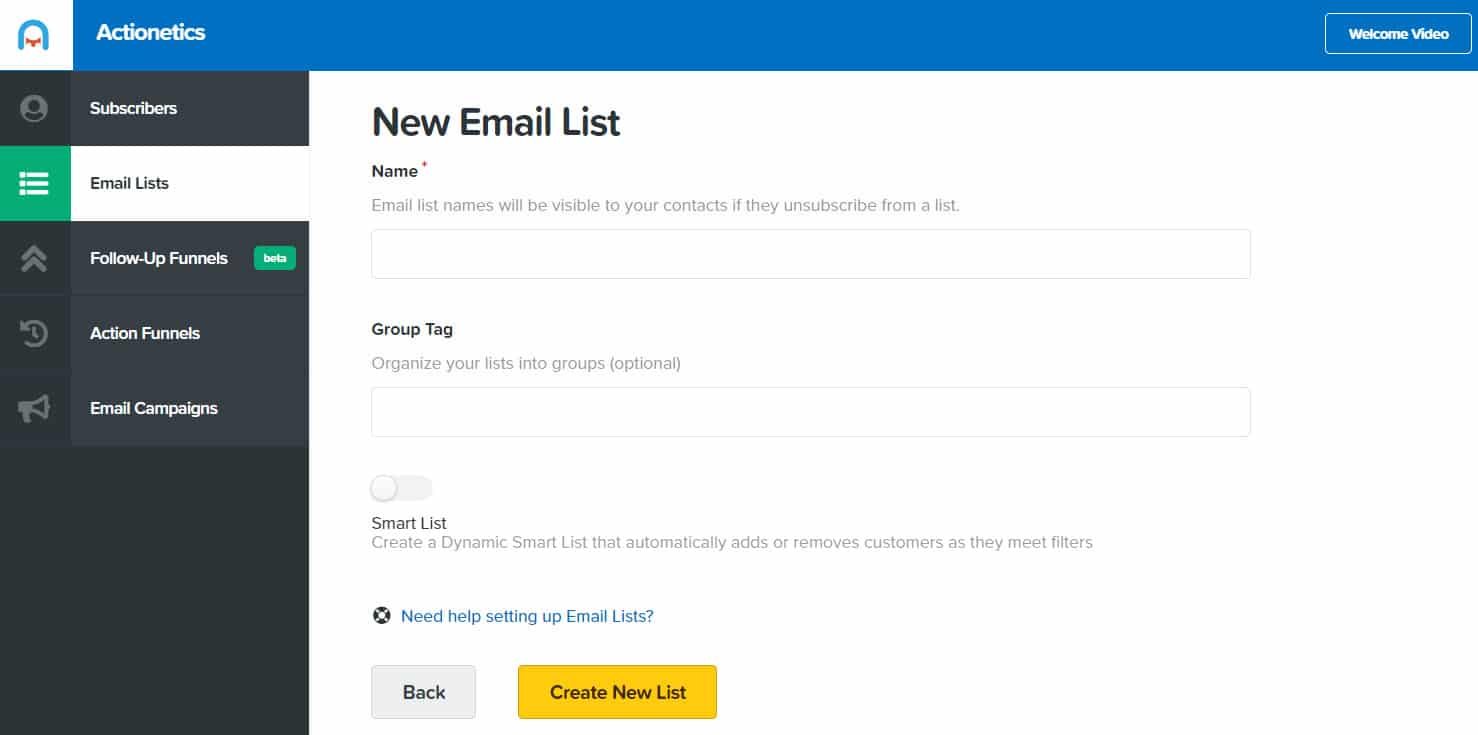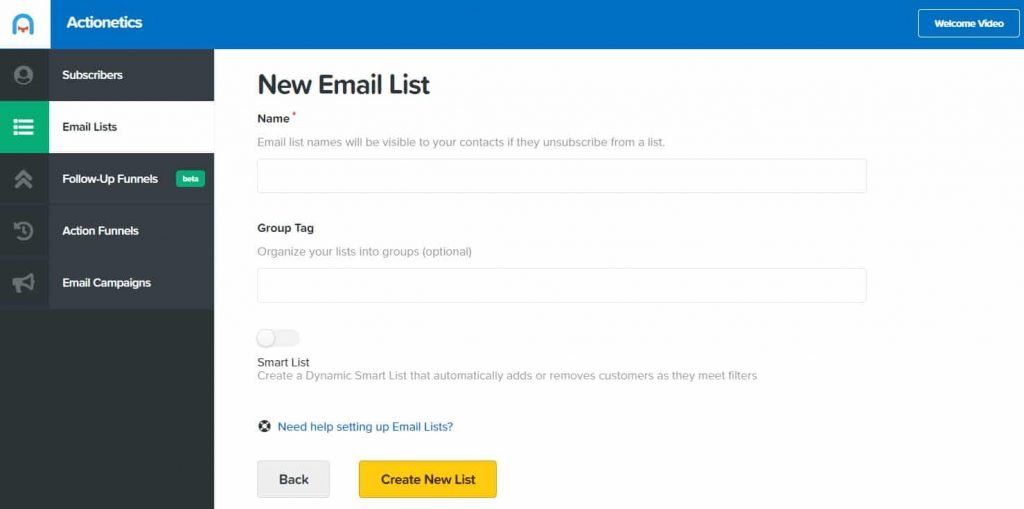 Does clickfunnels have an autoresponder?
If you are wondering does Clickfunnels have an autoresponder Actionetics is Clickfunnels email marketing tool. You can leverage this tool to create and send automated emails. You can also use Actionetics to integrate Twilio to send SMS.
This is a complete autoresponder where you can create or import your list, build a follow-up funnel and design and customize your emails for specific purposes.
Using Actionetics can help you focus on one software and save you time on integrating with other 3rd party services. These are the features you get with this:
You can also check the stats, after your emails are sent, dig deep to see what happened to each email. Who opened then, what did they buy, and how much money did you actually make from each email!
This is another great feature of clickfunnels. If you or anyone you know have created a high converting funnel you can simply use this feature to import that funnel in a second and use it for your business.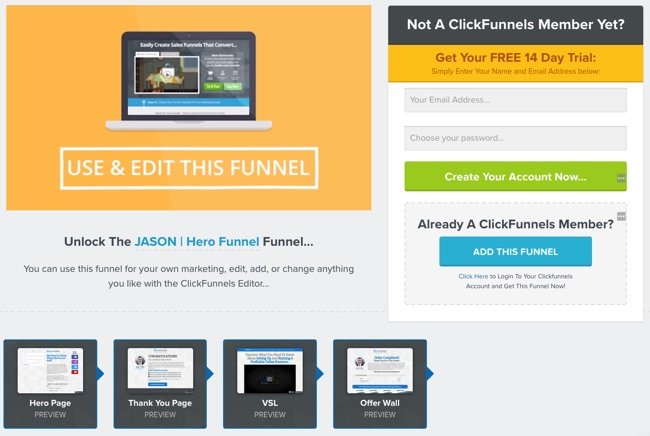 This would be a great method to promote Clickfunnels as you refer others and offer them free high converting funnel.
Clickfunnels Webinar Funnels
Webinars are a great method to sell products as you can see more and more people are using webinars to sell products.
This feature is also included inside Clickfunnels package and you don't have to use any additional software or plugin. If you have used webinars before you know they are a time-consuming process to set up.
With Clickfunnels you can build a custom webinar and make them look and feel exactly how you want.


Product Launch Funnel
If you want to launch a new product this feature allows you to easily set up a product launch funnel.
With Clickfunnels you can build up anticipation for your new product by giving away free videos before you launch a product. This method has been proven to work really well for different niches in order to have a successful launch. Creating launch funnels is as easy as creating other kinds of funnels.
Funnel Stats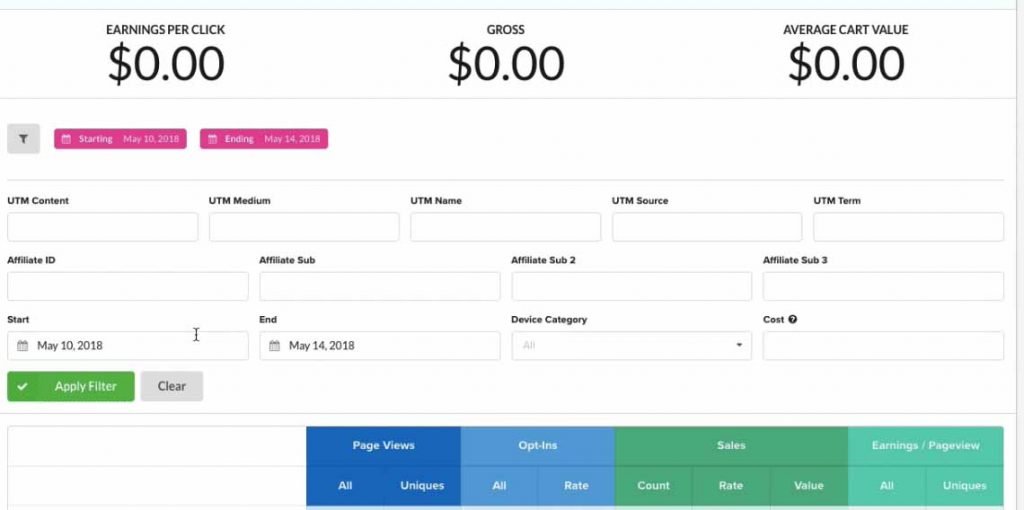 After creating your funnel and sending traffic to your offer you need a tool that can track the result.
Clickfunnels provides an analytics tool through which you can monitor how every page performs. This tool can help you see the result on your investment and make important changes accordingly.
Clickfunnels Support
Clickfunnels provides an extremely organized help center and well as videos and tips within your dashboard. This can help users to select the right funnel for their business and understand the funnel creation process in order to create the funnels with the highest conversion rate.
Clickfunnels support channels also include:
Support Tickets– Through this, you can submit a ticket to the support team and get answers to your questions.
YouTube Channel– Through this channel Russell Brunson provides tips, tricks, and tutorials to help you increase your sales and conversions.
Facebook Page– This is a great motivation for those who are looking to create a successful Salesfunnel for their business.
Setting up real funnel using Clickfunnels:
In order to start using Clickfunnels you need to register for you Free 14 days Trial, although they offer trial you still need to put your credit card details you only get charged after 14 days in case you don't cancel.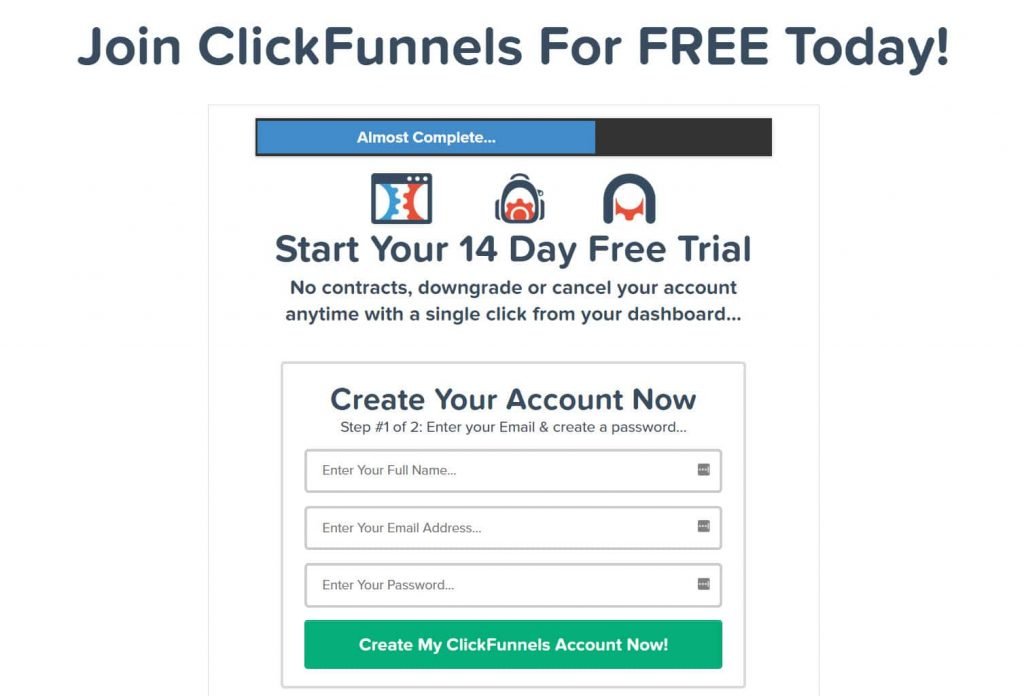 After you registered you get into Clickfunnels dashboard where you can access Clickfunnels main features including backpack and actionetics.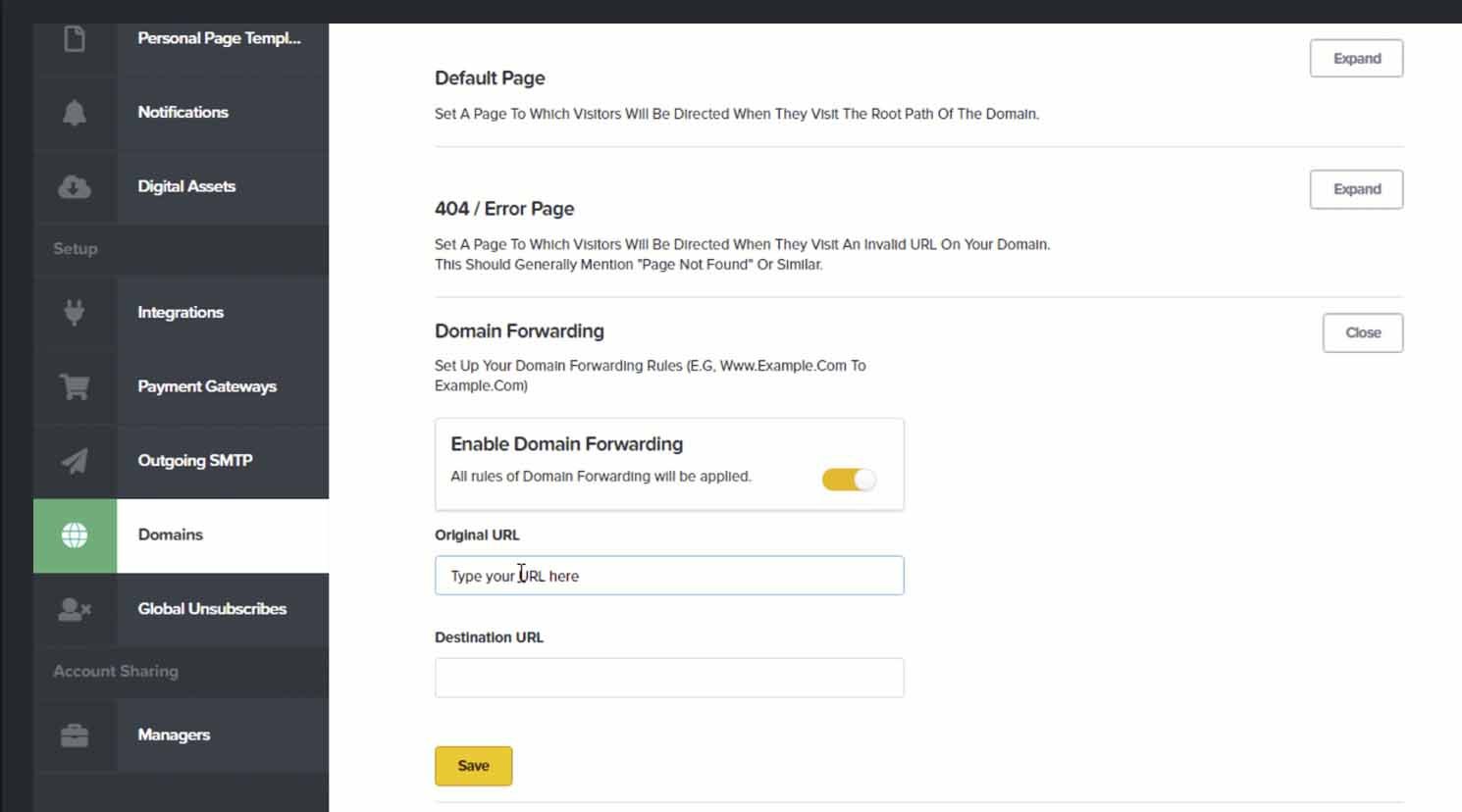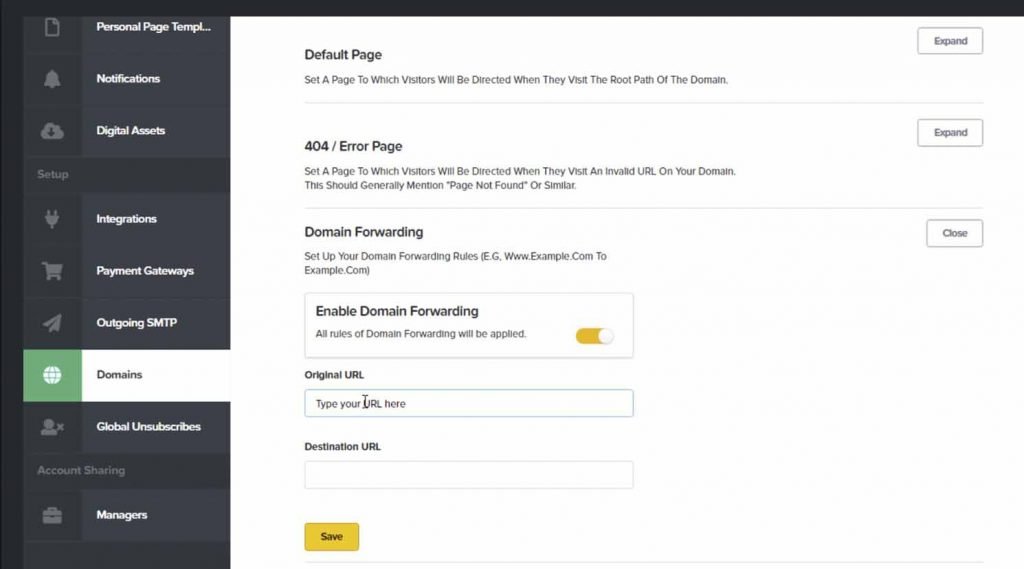 To start creating your first funnels you need to configure the settings the main settings that you may need to consider are as following:
Domain: Clickfunnels offers a free domain for the first year. However, if you already have your domain, you can connect your domain as shown in the picture above.
Payment Gateways: This is an important feature for a sales funnel. You can integrate your payment through the Payment Gateways button. Clickfunnels support third-party providers like Paypal, Stripe, Clickbank and more.
Email Integration and SMTP: you can use either Actionetics email application that is available on the Etison suite package or use any other third-party provider like GetResponse, MailChimp and others.
After integrating and configuring the basic settings you can start creating your funnel. The first step in creating a funnel is selecting a template.
Why You Need One Funnel Away Challenge?
If you want to start with Clickfunnels and you are ready build your first funnel it is recommended to start your journey with One Funnel Away Challenge. The One Funnel Away Challenge is a 30 day training that guides you to launch your first funnel, step by step. The instructors are Russell Brunson, Stephen Larsen and Julie Stoian.
They will teach you everything they have learned in building multi-million – dollar sales funnels through video lessons. They break down complex topics each day and give you assignments that you need to complete in order to get to the next level.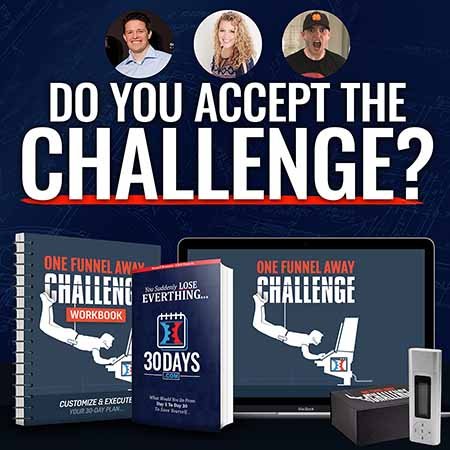 You'll be ready to release your first funnel into the world at the end of the 30 days.
About The Founder Russell Brunson
Russell Brunson has built a following of over a million entrepreneurs. Sold hundreds of thousands of his books and co-founded software company ClickFunnels, which helps tens of thousands of entrepreneurs quickly get their message out to the marketplace.
He is the author of the book dotcom Secrets. The book is about getting more traffic to your website or increasing conversions. It's a playbook that tackles the underlying symptoms of low traffic and conversions to exponentially grow your company online. He is offering dotcom Secrets for FREE but you need to pay for the shipping though.
See also: Dotcom Secrets PDF: In-depth Review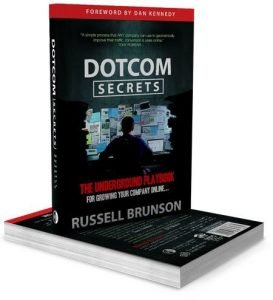 He is also the author of Expert Secrets which is a step by step map about how to create a business by selling your advice. This book is a real boost for anyone to turn his passion into a business. You can also get Expert Secrets for FREE(shipping is not included).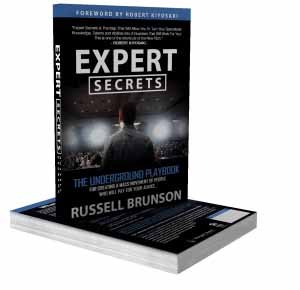 If you have a passion for anything, this free book will:
help you find your voice and give you the confidence to become a leader…
will show you how to build a mass movement of people whose lives you can affect…
will teach you how to make this calling a career, where people will pay you for your advice…
Traffic Secrets
Traffic secrets is a new book from Russell Brunson, as you can tell from the name of the book it teaches how to get more traffic into your funnel and website to grow your business. Russell Brunson is offering Traffic Secrets for FREE but you just need to pay for the shipping though.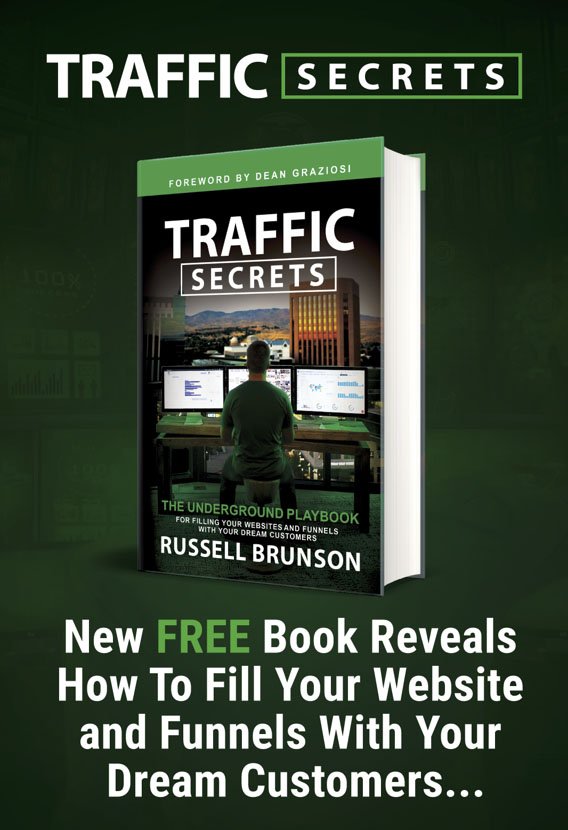 Clickfunnels Pros and Cons
Pros
Easy to use with drag and drop features.
Shopping cart and autoresponder features included.
Can create webinar funnels.
Can create fully functional Sales and E-commerce funnels from scratch without using any other website.
Integrate with Twilio to send automated SMS messages.
Ability to add Video player, social sharing button, shopping cart and other features to your landing page.
14 Days FREE Trial and great support.
Cons
It can be considered to be a bit expensive especially if your only purpose of using it is to create landing pages. But consider the fact that it is a complete business platform that saves you money by eliminating other third-party applications.
There is a limited number of funnels on the basic plan.
There might be a bit of a learning curve due to the number of features.

Final Verdict
If you managed to get this far congratulation! Now you know to answer and the difference between these to popular questions of "what are Clickfunnels" and "what is Clickfunnels". And Yes Clickfunnels is safe and legitimate software that helps you make landing pages and sales funnels for your business. If you are still not sure whether you would like to start with 14 days free trial or not you can start with the free books I mentioned above they will help you get some more idea on how you can start your business.
If you are ready to pull the trigger and start your 14 days free trial you may also need to consider looking into the One Funnel Away Challenge which is a 30-day training program in the Clickfunnels ecosystem. This is a step by step guide on how to launch your first funnel.
The course is provided by Russell Brunson who is is the co-founder of ClickFunnels, Julie Stoian(a 7 figure entrepreneur), and Stephen Larsen who conducts the live group calls and is basically your accountability coach. To get more details about it, check out this link.
Related Topics: Other Similar
Clickfunnels vs Getresponse: Which one is better.
Clickfunnels vs Builderall vs Leadpages