In the next 10 minutes or less, you are going to learn how easy it is to create a blog on your own and how to start your WordPress blog.
When you are on this page, it means you have some sort of entrepreneurial idea in your mind, which is great! So if you are passionate about anything or you have any idea in your mind whether it is e-commerce, personal brand, affiliate marketing or just a side freelance business, one thing that I can highly recommend is to challenge yourself to learn how to start a blog.
Blogging can help you not only change your life but potentially the lives of many other people who are going to read your content (if you make it valuable and if you focus on something specific).
Do you need technical coding skills?
I'm assuming you have absolutely no coding skills whatsoever. The good news is blogging is now way easier than ever before and the last thing that should stop you from staring your blog today is technical knowledge. I have also broken down the process into only 5 simple steps that you can follow.

So what is a blog?
A blog is an online journal or informational website that focuses mainly on written content. It is a platform that allows bloggers to share their views about a specific subject with their readers. This is a great method to makes money as well, HOW? Imagine you can interact with other like-minded people who are interested in your subject. So if you can manage to put quality content on your blog and build some sort of trust with your readers you can leverage this to start making money(and potentially good money) which I will talk about later on.
How to Start a Blog in 5 Steps:
let's get started!
Step1. Register your blog's domain name
The first thing that you need to do before starting a WordPress blog is to choose a good blog name. Few tips to consider:
Try to choose a short domain name(maximum 3 words).
It's better to have a .com domain extension although .net and .org are fine as well.
Make it easy to remember to avoid any frustration.
It should also be descriptive so that the reader can quickly guess what your blog is about.
You cannot put any space between the words(except dashes – ) so reviews clear become reviewsclear.
If your favorite domain name is taken you can add small words like "the", "a" or "my". For example, call your site TheFitnessSecrets.com instead of FitnessSecrests.com.
The good news is you can get your domain name directly through Bluehost and it's FREE for the first year as long you purchase 12 months worth of web hosting through Bluehost.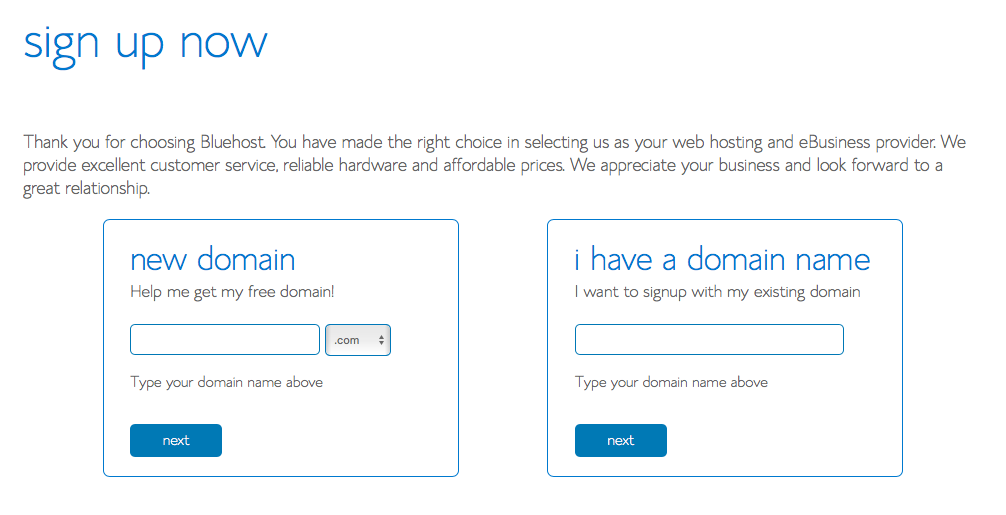 See if your domain is available!
2. Buy a web hosting for your blog
After selecting your domain name it's time to get your blog online. You may be thinking this requires technical knowledge but the steps below with walking you through the easy process.
In order to get your blog online you are going to need two things:
A blog hosting: A blog host is a company that stores all the files and contents related to your blog.
A blogging platform(which in this case we are going to use WordPress): WordPress is a software that can help you to build your blog. This is the most popular, easy to use platform on the internet that you are going to use without needing to know any coding/
The hosting company that I personally recommend is Bluehost I use it for my websites and I recommend it due to these reasons:
Officially recommended by WordPress as one of the best and brightest hosting companies.
You get a FREE SSL certificate for ALL of your websites that you host using Bluehost. This is one of the greatest features since Google Chrome is on a mission to migrate all the websites into HTTPS and most hosting companies charge almost 25$/ year for every SSL certificate.
You also get 30 days money back guarantee is if you are not happy for any reason you ask for a refund.
Now follow the steps below to buy hosting for your blog
1.Go to Bluehost and click on "Get Started" button.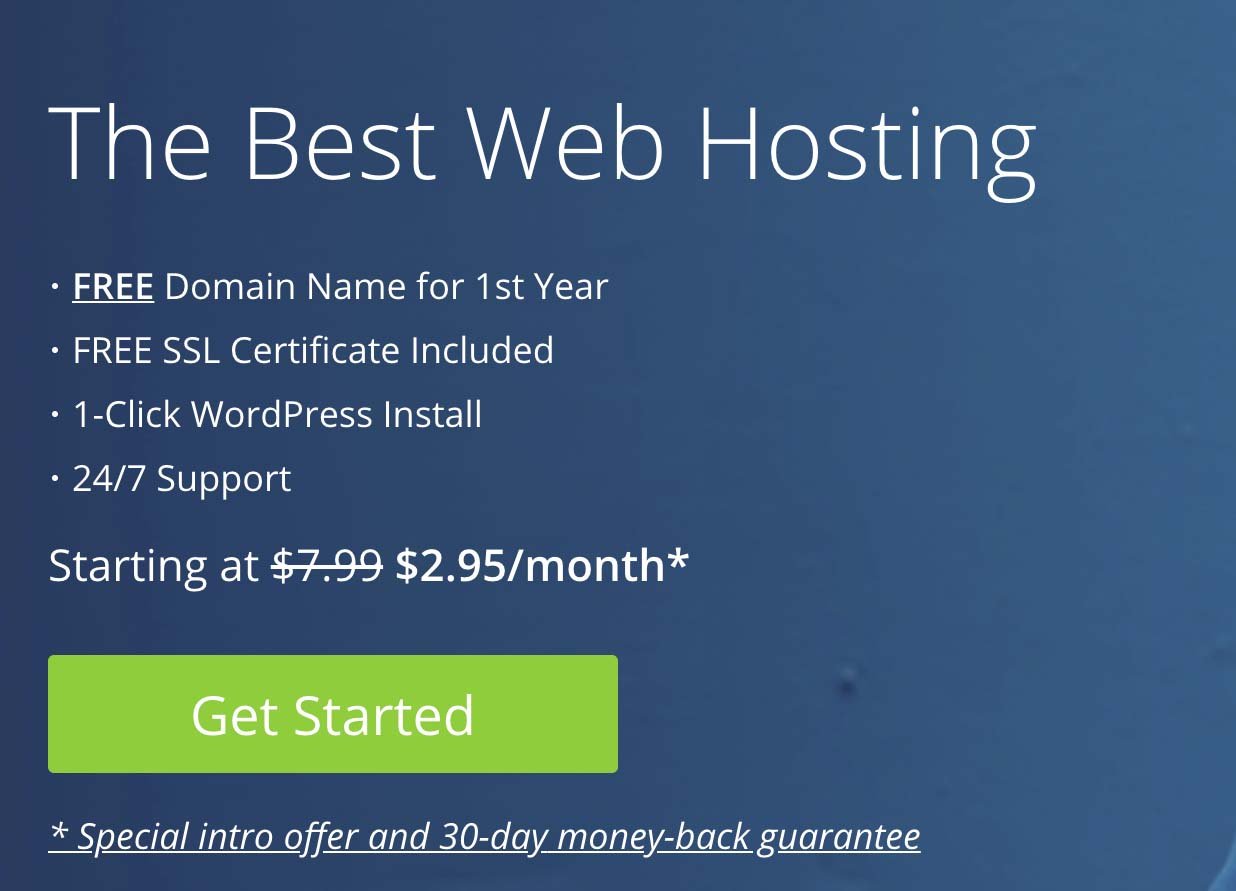 2. Get the plan you are interested in(which I recommend a basic plan for new bloggers) and click "Select".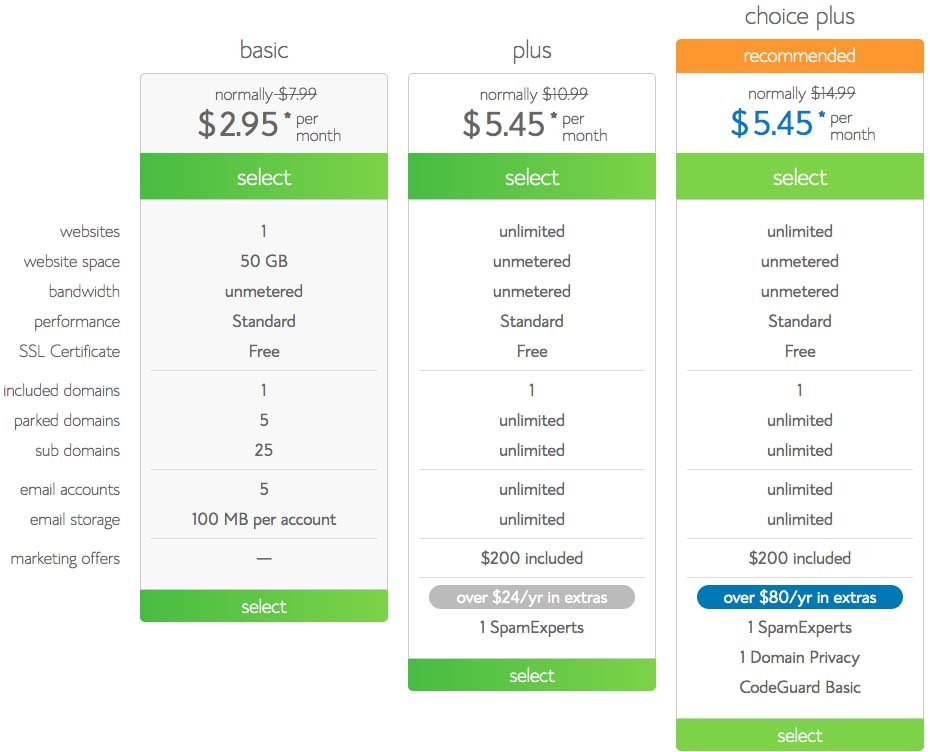 3. Enter your domain name in the left box and then click "Next".
You can only use the textbox at the right side if you have already registered a domain name.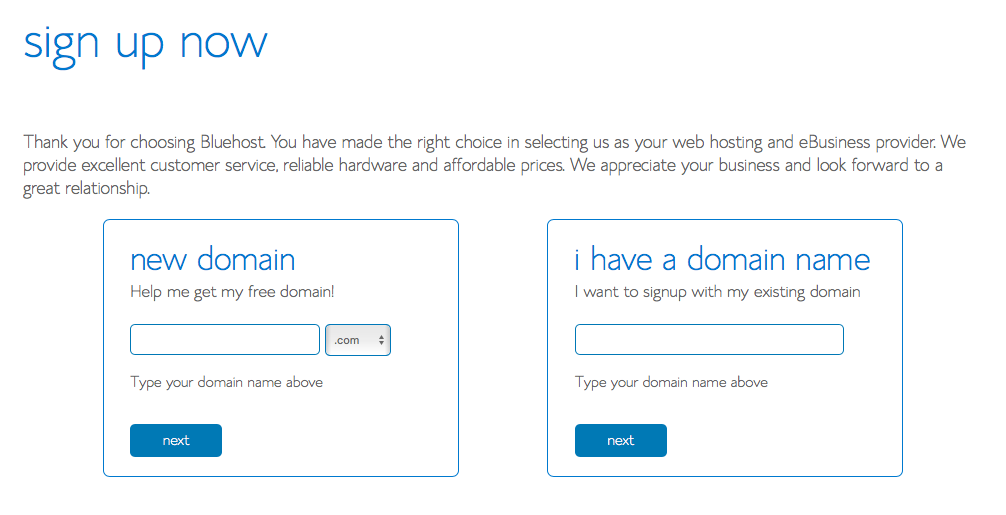 4. Fill out your personal and payment details
After you entered your personal details on the next page you will get some options. Choose your hosting package and options, the only one that I go with is domain privacy.
The 12 months package has the lowest upfront cost while the 36 months package will get you the lowest monthly rate. You can also cancel it at any time.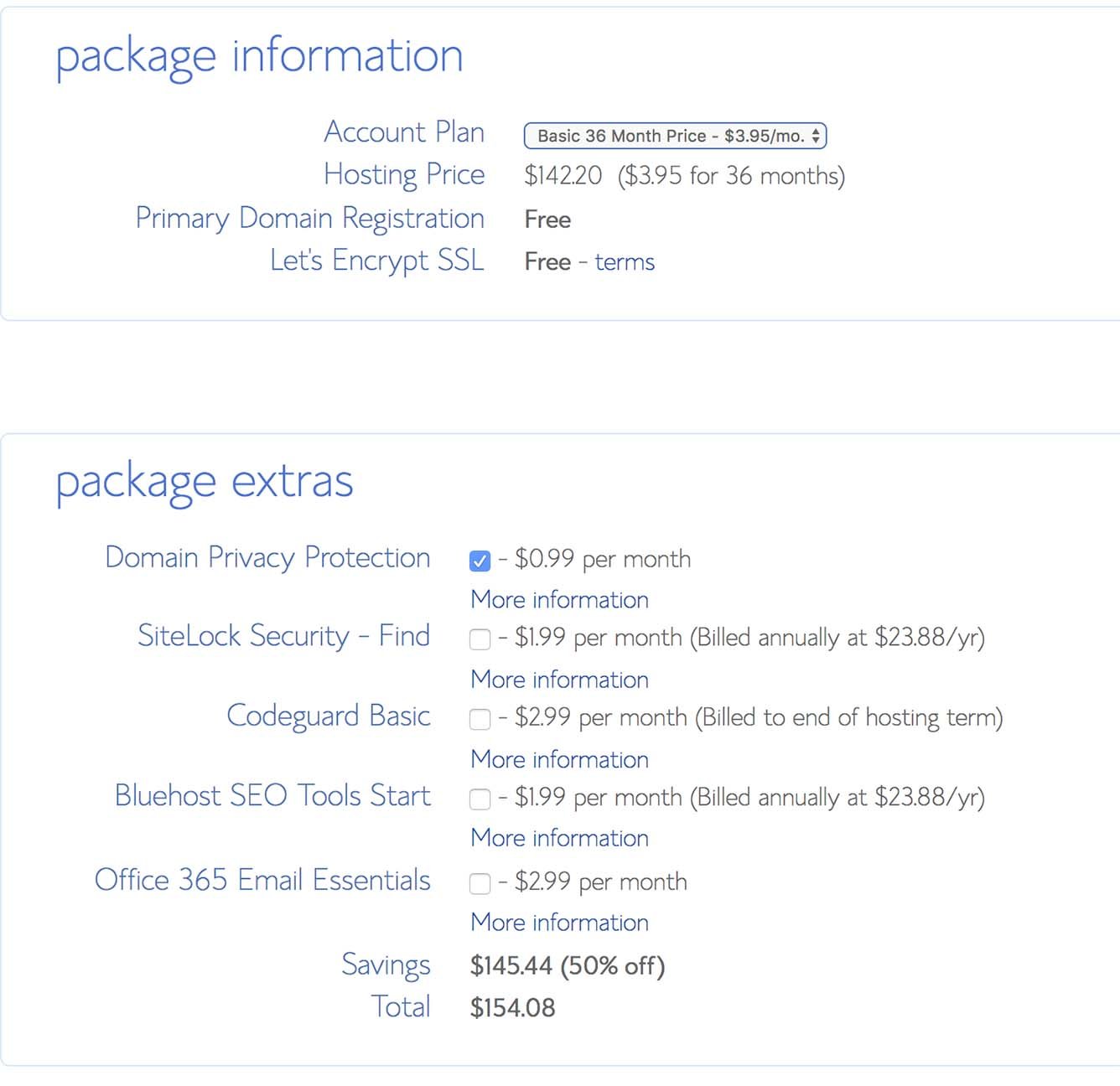 5. Next, you will be asked to type in your password, make it a secure password. Once you have done that you can choose a basic design for your blog.
Step 3. Map your domain name to a web hosting
You can skip this step if you have purchased your domain directly from Bluehost.
If you bought your domain through domain name providers like Go Daddy, Namecheap or others you need to connect your domain to your hosting account. All you need to do is to set the DNS Nameservers to point to Bluehost. Here are the steps:
Login to your domain account manager.
Click on manage my domains.
Select the domain name that you are going to modify and click change Name Servers.
Change the first 2 name servers to ns1.bluehost.com and ns2.bluehost.com.
You then need to add the domain you bought(from other domain providers) as an addon domain to your Bluehost web hosting.
You may need to wait for few hours for these changes to take place, in some cases it may take a bit longer(like 48 hours).
End of step 3 in case you want to skip this step.
Step 4. Install WordPress and customize your blog
After you created a password in step2 you can choose a design template for your blog. I personally prefer simple themes(you can choose any random theme, for now, and change it later as iI will show you).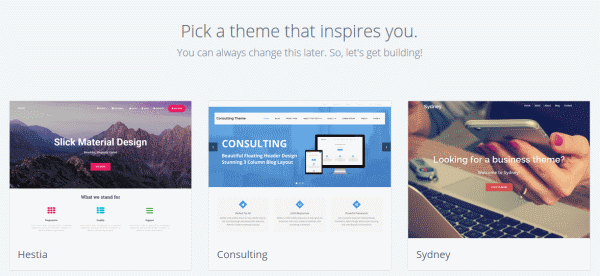 Once you have done that it's all done, now the WordPress will be installed.
You will be taken to a screen that says "Start Building" click that button. You will also receive an email with your blog login details. Remember, these login details are for your WordPress blog login only, not the Bluehost login.
You should end up to the page like this. On this page, you can choose "Business" or "Personal" it's up to you. Congratulations you now have a WordPress blog 😉
Customize your blog
Changing your blog theme
What is s theme? In WordPress, blog layouts are also called themes. Theme basically controls the entire design of your blog. In order to change the theme, click "Appearance" from the left menu.
When you log in to your WordPress administrator area through this link: http://www.yourblog.com/wp-admin "yourblog" is the actual name of your blog. This is the place where you can any changes to your blog.
As I mentioned before we are going to change the theme later on. So in order to change the theme click on the "Appearance" tab on the left menu.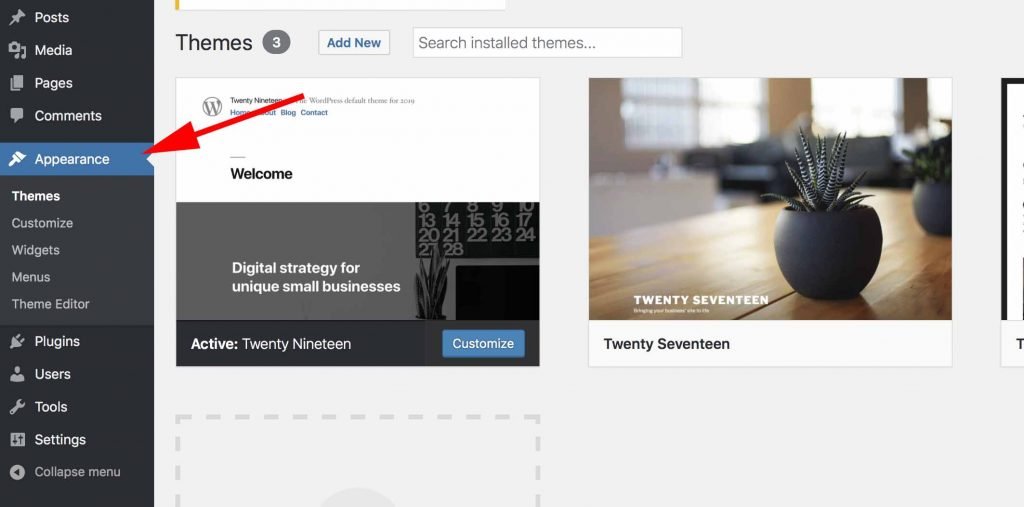 You can see there a few themes that are already being installed for your blog which are free themes. To change the theme you can simply hover over the theme you want and click "Activate".
More FREE themes: If you are looking for free themes, simply click the "Appearance" tab from the left menu and then click "Add New". You can get access to thousands of free themes on the new page, just hover over the one you like and click "Install". You can also click "Live Preview" to see how the theme looks before installing. After installing the theme just hover over the theme and click "Activate".
5. Write your first blog post and publish it
Now that you have managed to install your blog and make it up and running it's time to do some actual blogging.
Before you start to bog there is a small setting that you need to change.
When you create a post, by default WordPress is going to create the URL using the date and the name of the blog post. This can make your blog post URL look ugly and not really readable.
So with this minor change, your blog URLs are going to be more readable and more search engine optimization friendly.
From the left menu hover over to "Setting" and then click "Permalinks".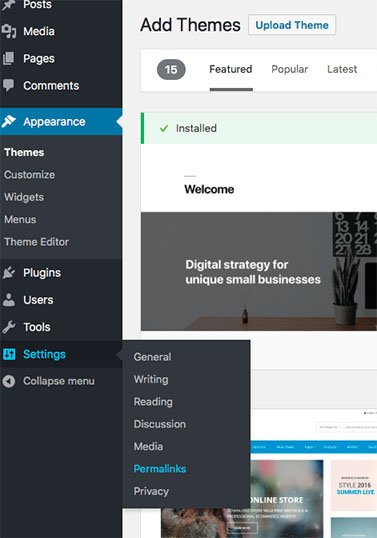 From the common settings select "Post name" and then click "Save Changes".
To create your first post go to the left menu and click on posts. You can see there is a Hello World! post. This is a default post on every new WordPress blog.
To write your own post, you can click "Add New" from this page or hover over to posts from the left menu and click "Add New".
Now you are on the post editor screen. If you are using WordPress 5.0 and above this is how it looks. Just enter the title of your post and with the little plus button "+" you can add different types of content in your blog.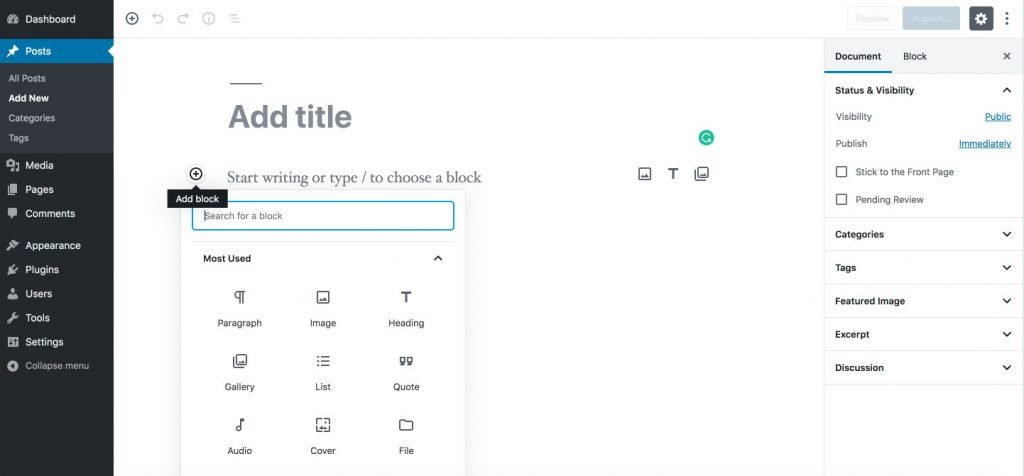 When you finished your blog post click on the blue "Publish" button on the right side of the screen. If you would like to save your content, for now, you can just click "Save Draft". This will save your work without publishing it.