Updated on April 16th, 2019 at 06:48 am
What is the best Amazon Product Research Tool?
When doing research to find a product to sell on Amazon, it's essential to have a software to analyze products which can give you a clearer picture of the competition, Amazon sales data and market potential for each product. While software is essential, which one should you use? There is a wide range of options available that can make it difficult to know which is the best one to choose. However, Jungle scout, Amz Scout, and Viral-Launch are the top three software you can use for your product research. But which one is the best to use?
I'm assuming you already know that jungle scout is the first Amazon research tool in the market. Also, it is crucial to find amazon seller software that actually saves you a lot of time. But Is jungle scout the best tool in the market as well and is jungle scout worth it?
I am not going to compare the extra buttons that some of them may have, I'm sure there are heaps of websites out there comparing those features. I'm going to compare the most important aspect of the product research tool which is the accuracy of the data, especially sales estimator and exact search term volume.
With better sales estimates and keyword data, You will be able to precisely optimize your listings, thus improving their search rankings significantly.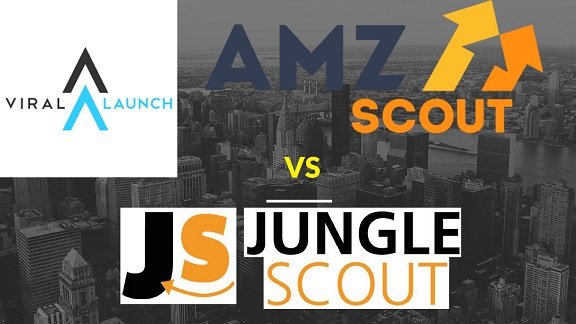 Personal experience:
I started using jungle scout back in 2017 and managed to find a reasonable product which is still selling well(that's good ha). Recently I decided to add a new product using jungle scout web tool. After setting the filters, the software started showing a lot of high-profit product. However, after checking those products through other tools I noticed a considerable number of them does not really sell that well!
I decided to check the sales estimate on my own product using jungle scout and noticed, it shows more than the actual sale. Apart from all the good features of jungle scout, you may end up wasting a lot of time checking useless products. However, what I like about jungle scout web app is the feature that lets you exclude certain keyword that can potentially save you time. This feature is missing in Viral-Launch and Amz Scout.
What does overestimation mean for a seller?
Overestimation increases the risk of loss, if you compare AMZScout and Viral-launch with Jungle Scout, the first two products do not overestimate the sales. This means You will not purchase too many of certain product and avoid probable losses and excess inventory fees So, you will simply be on the safe side!
On average, Jungle Scout estimates the sales 8-10% higher than AMZScout. It might be a big difference – especially for a seller with a low margin.
What is the best tool to find the best selling products on Amazon?
I'm assuming you already know the difference between the web app and the Chrome extension, and in order to sell on Amazon, you are going to need to need both of them. What I do recommend is to use two different software to make sure the result is accurate. Personally I quite like the Amz scout chrome extension since it is a solid product and provides fairly accurate sales estimates. Although their sales estimate is lower than the actual sale(which I personally prefer) it's better not to be too optimistic about the sales.
So, you can start by using Viral-launch web app to search for products and then check the accuracy of the sales of the product you came across, with Amz scout chrome extension.
Using this method:
You are not overestimating sales.
You have checked with two different resources that can increase the chance of sales accuracy.
Potentially increases profit.
Comparison:
Amz Scout Pricing and Features
Click here to apply the discount and then click on other links below to use Amzscout discounted price

Amzscout offers both Chrome extension and the webapp. I personally highly recommend the Amzscout chrome extension. This extension covers the basic features like estimate sale, FBA fee, tracking and a lot more.
Keep in mind: The Est Revenue is not profit you need to deduct the product fee and the shipping fee to find out the profit. This is what I see most (so-called Gurus) don't talk about.
Three nice little features that I like in Amzscout chrome extension are Product Score, Get Keywords and Find at Alibaba.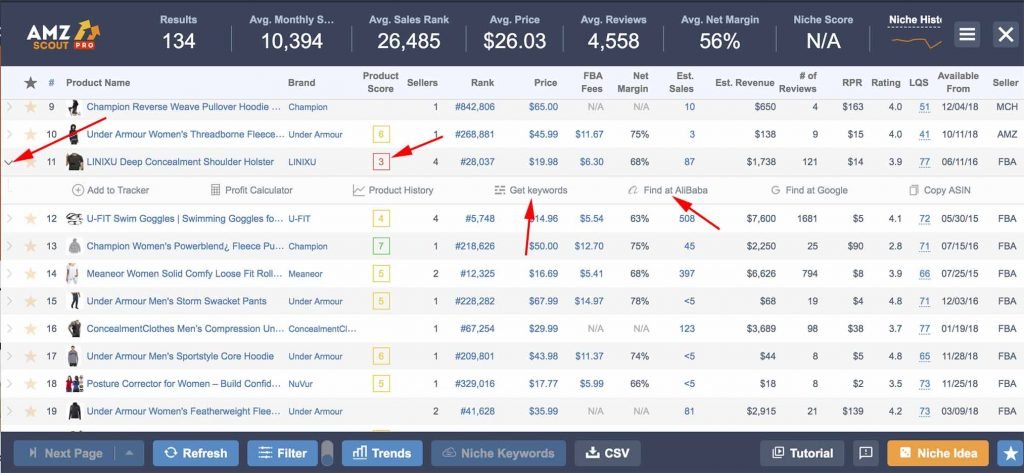 Product Score:I have tested this feature on my own products and I have to admit this is not 100% correct. But it is really reliable and if you considering to add new more items to your store make sure to check out this number. If this number is less than 5 you may need to think twice before adding it.
Get Keywords: If this feature does not work(does not pull the keywords) in most cases it means the item is sort of new. I think it mostly works on products that have been on Amazon for more than a year.
Find at Alibaba: This feature may not find the exact supplier on Alibaba but it definitely helps to get the idea of sourcing channels. Alibaba button will move you straight to the page with the sought product on Alibaba website.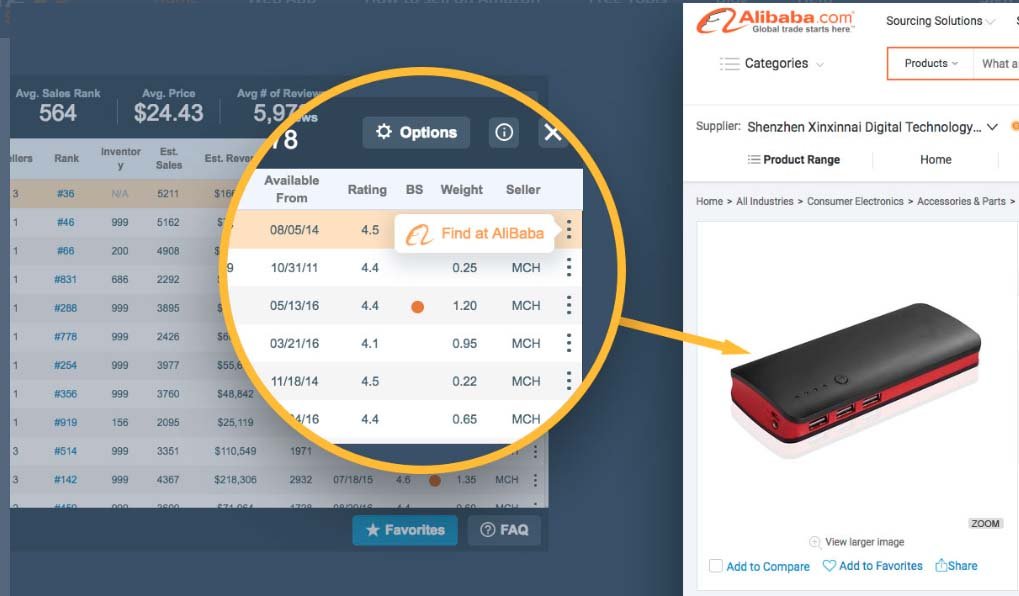 AmzScout FBA Fee Calculation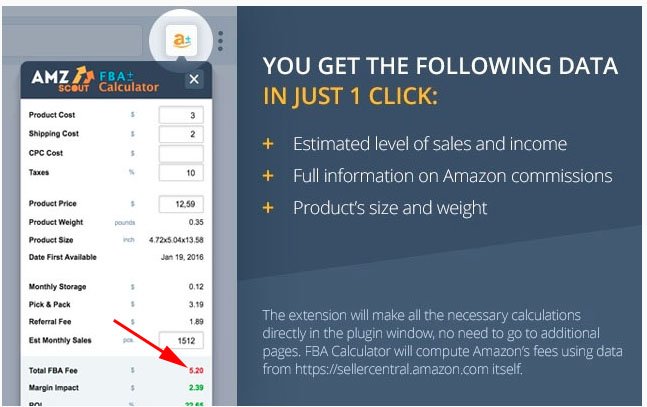 This is another free chrome extension which can help you estimate your revenue and helps you extend your sales across different countries. In the US market, you may need to add another 50 cents(roughly) to total FBA fee amount to make your calculations more accurate. Also, consider the fact that you pay for shipping of the item that customer returns not Amazon.
Full Keyword Trend History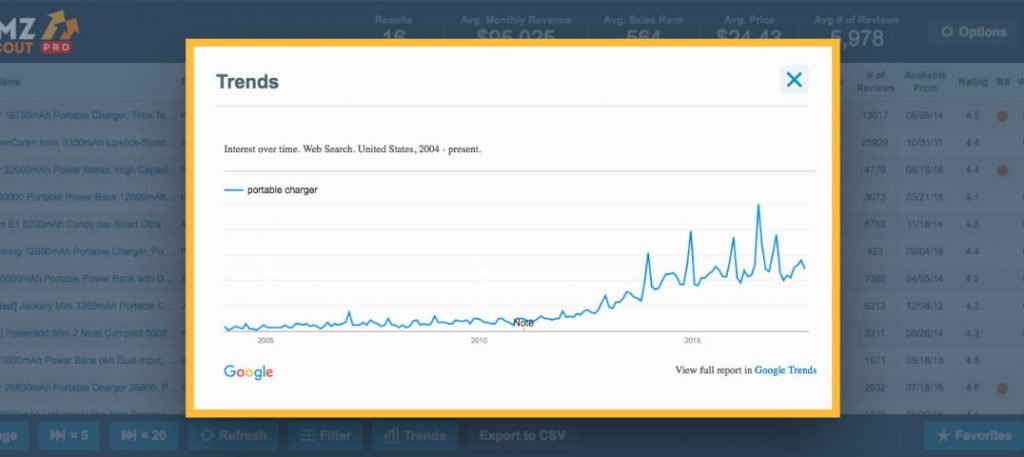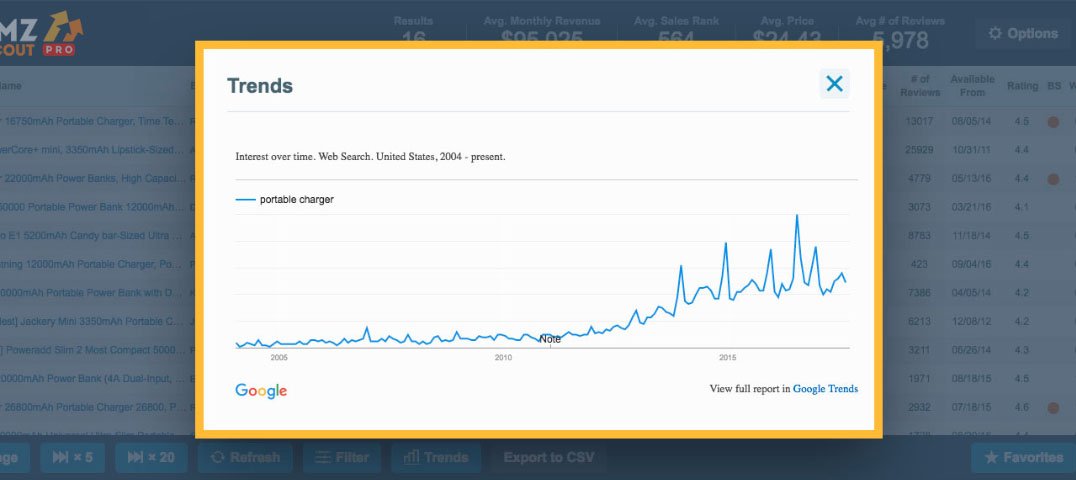 This feature is part of chrome extension which can help you find the period when the keyword and the product became more popular or less popular. This can help to find the seasonal element to make sure you choose the right time.
AmzScout Sales Estimator

Knowing the exact product sales is a great help before adding a new product to the store. Amzscout sales estimator practically underestimates the sales which is more acceptable than overestimation. So the actual number should be a bit more than what you see on Amzscout estimator.
AmzScout Product tracker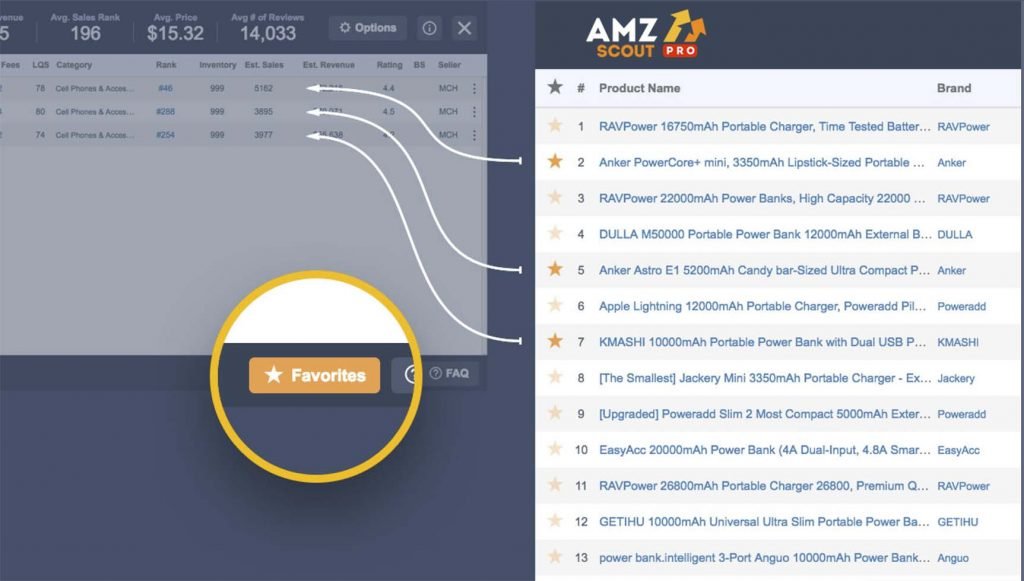 This web app feature lets you choose products you put the eye on, save and track them for later. You can use this feature to monitor your competitors daily sales. You can also add your favorites in a special section and download and upload them later.
The good thing about Amzscout chrome extension is you can get 7 days free trial to check out full features of the product.
Jungle Scout Pricing and Features
Use any of the links below and then scroll to the bottom of the page to use Jungle Scout discounted price

Jungle Scout is the first Amazon product research tool in the market and they provide both chrome extension and the web app.
One of the products of the web app is product database. It has a lot of options that can help you drill down into Amazon's catalog and find your nex potential product. I personally like the exclude and include filters that can save you a lot of time finding your next product. In the seller section make sure you tick the FBA if your product is going to be fulfilled by Amazon.
One thing to consider is jungle scout slightly over estimates the sales so bear that in mind if you are goging to use this product only!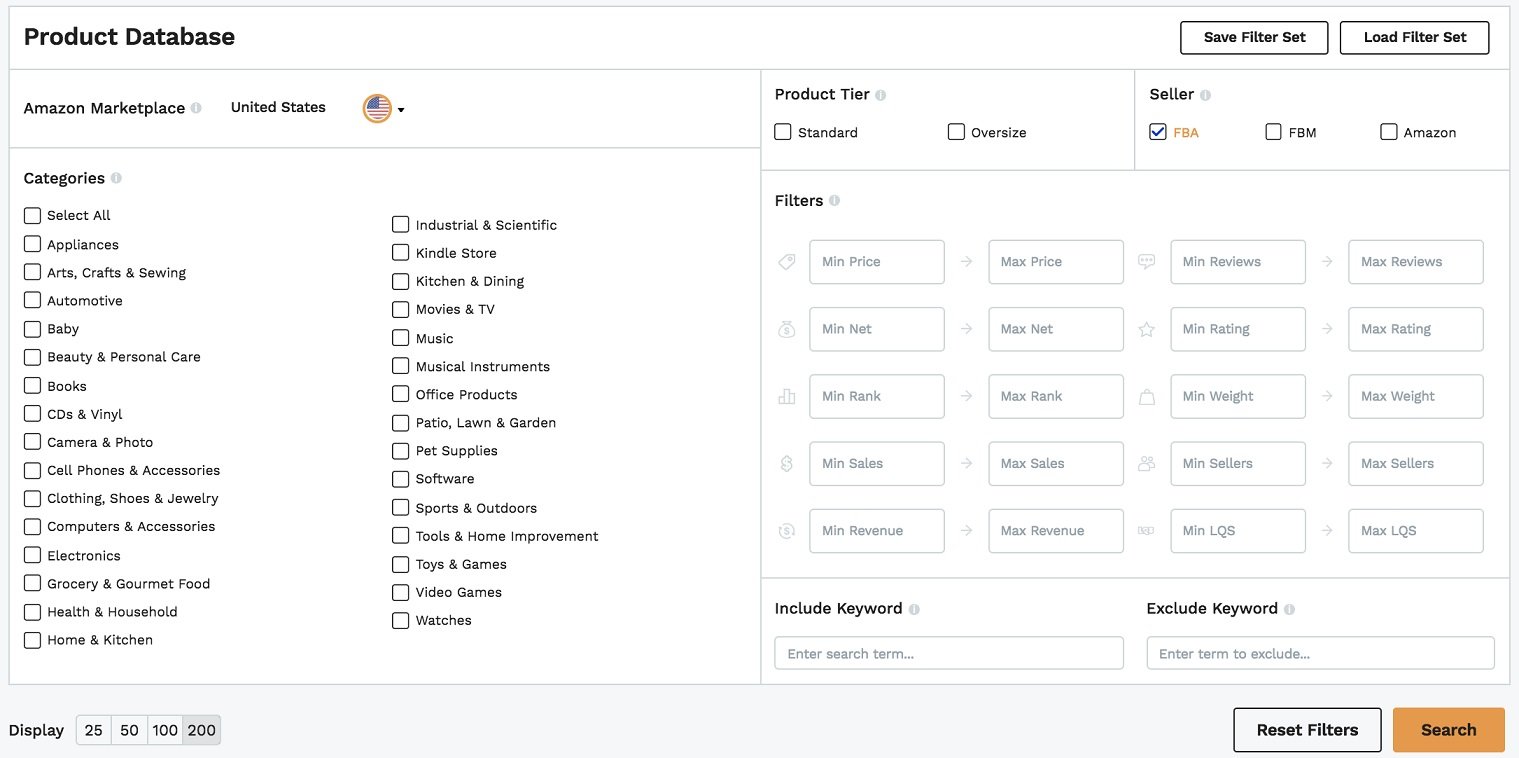 Jungle Scout Product tracker
This is another web app product that can help you compare your selected products and your competitors so you can make the best decision when it comes to choosing a new product.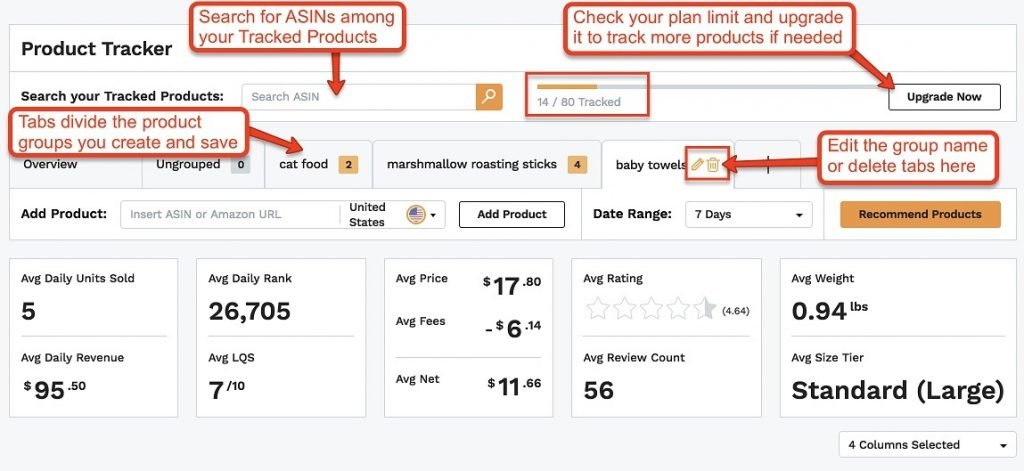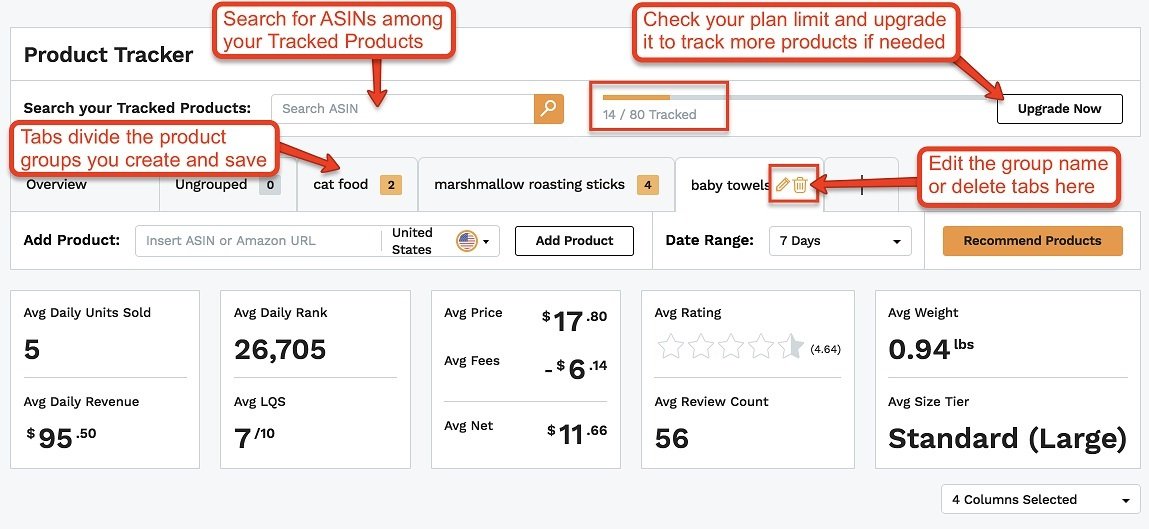 Keyword Scout

keyword scout is a new addition to the web app family. As you know keywords are crucial when it comes to raking of your Amazon listing. This feature is included at no extra cost as part of all subscription plans. Here are the main benefits of this feature:
Get hundreds of keyword suggestions by searching with a keyword or competitor ASIN.
Know the exact and broad search volumes for high-converting keywords.
Estimate how many daily Jump Send(jungle scout email automation tool ) promotional giveaways are needed to rank your product.
Suggested bids for Amazon PPC and HSA ads.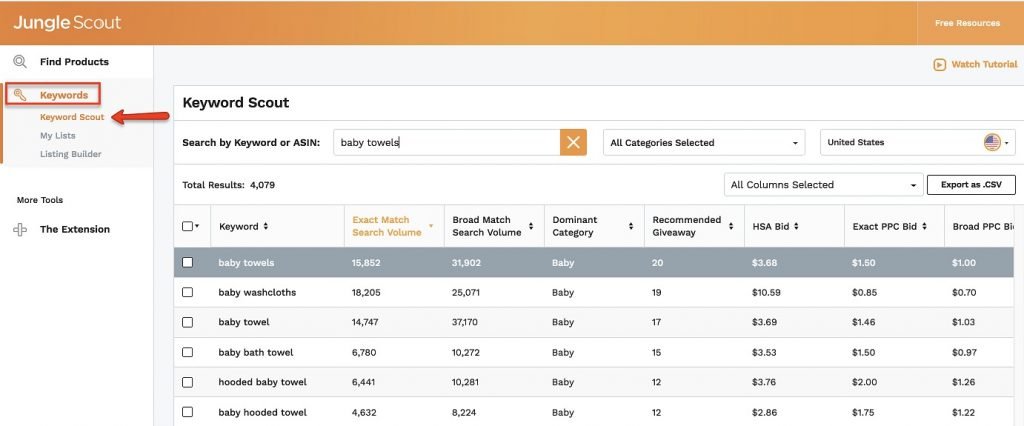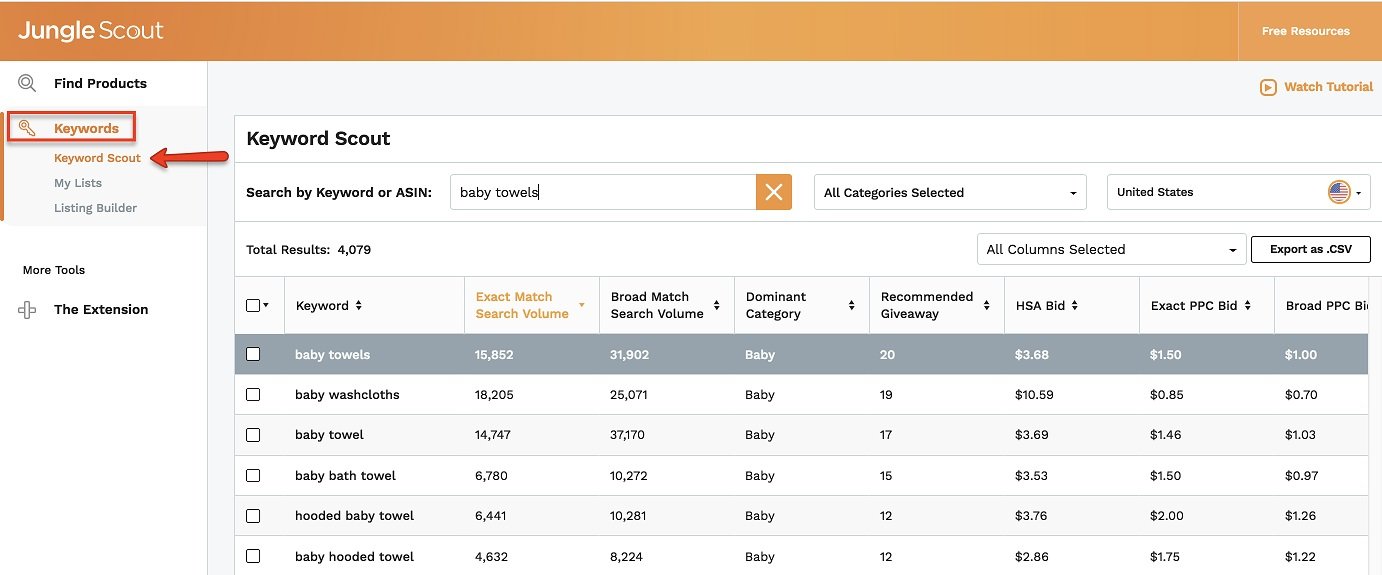 Jungle Scout Chrome Extension
Jungle scout chrome extension has a number of features that will help enhance the research process. This extension has fewer options than Amzscout but the only advantage is the speed. It's definitely faster software than it's competitors. If you have the budget I would recommend to have both since it's a one-time payment. Jungle Scout does not offer a free trial though.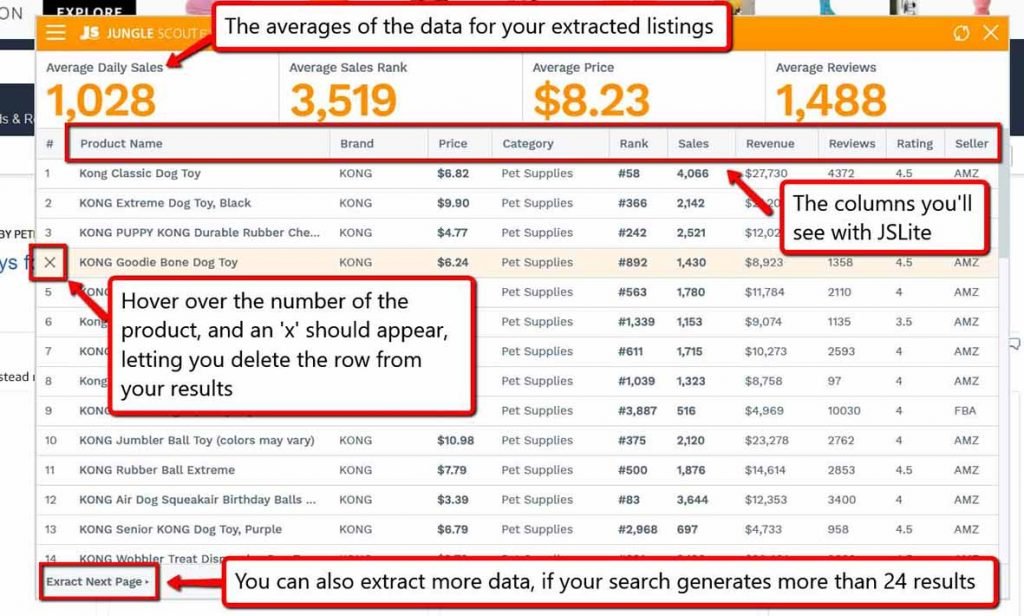 Viral-Launch
Use any of the links below with Viral launch coupon code reviewsclear and enjoy the discounted price 😉

If you would like to expand your eCommerce business make sure to check out our post on how to start your drop shipping business today here.
Also, make sure to check out our post on How To Start A Business And Your Entrepreneurship Journey?