AMZScout vs Jungle Scout vs Viral Launch – Best Amazon Product Research Tools
When doing research to find a product to sell on Amazon, it's essential to have a software to analyze products that can give you a clear picture of the competition. While the software is essential, which one should you use? There is a wide range of options available that can make it difficult to know which is the best one to choose. However, Jungle Scout, AMZScout, and Viral-Launch are probably the top three tools you can use for your product research. But which one is the best to use?
I'm assuming you already know that Jungle Scout is the first Amazon research tool in the market. Also, it is crucial to find amazon seller software that actually saves you a lot of time. But Is jungle Scout the best tool in the market as well and is Jungle Scout worth it?
I am not going to compare the extra buttons that some of them may have, I'm sure there are heaps of websites out there comparing those features. I'm going to compare the most important aspect of the product research tool which is the accuracy of the data, especially the sales estimator and exact search term volume.
With better sales estimates and keyword data, you will be able to precisely optimize your listings, thus improving their search rankings significantly.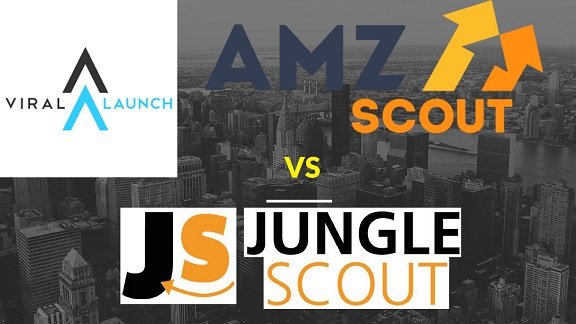 Personal experience:
I decided to check the sales estimate on my own product using Jungle Scout and noticed, it shows more than the actual sales. Apart from all the good features of Jungle Scout, you may end up wasting a lot of time checking useless products. However, what I like about the Jungle Scout web app is the feature that lets you exclude certain keywords that can potentially save you time. This feature is missing in Viral-Launch and AMZScout.
What does overestimation mean for a seller?
Overestimation increases the risk of loss, if you compare AMZScout and Viral-launch with Jungle Scout, the first two tools do not overestimate the sales. This means you will not purchase too many of certain products and avoid probable losses and excess inventory fees So, you will simply be on the safe side!
On average, Jungle Scout slightly estimates the sales higher than AMZScout, but I noticed recently they are getting better at sales estimation. It might be a big difference – especially for a seller with a low margin.
AMZScout vs Jungle Scout vs Viral launch – Which one is the best tool to find the best selling products on Amazon?
I'm assuming you already know the difference between the web app and the Chrome extension, and in order to sell on Amazon, you are going to need both of them. What I do recommend is to use two different software to make sure the result is accurate. Personally I quite like the AMZScout chrome extension since it is a solid product and provides fairly accurate sales estimates. Although their sales estimate is lower than the actual sale(which I personally prefer) it's better not to be too optimistic about the sales.
So, you can start by using the Viral-launch web app to search for products and then check the accuracy of the sales of the product you came across, with AMZScout chrome extension.
Using this method:
You are not overestimating sales.
You have checked with two different resources that can increase the chance of sales accuracy.
Potentially increases profit.
Also check out this free video on how to find profitable products using jungle scout and amzscout.
Comparison:
AMZScout Review, Pricing, and Features
Use the links below to access AMZScout discount code

Product Name:
Price:
Discount Price:
Start an AMZScout Trial
7 Days FREE Trial
FREE Trial
All-In-One Amazon starter bundle(NEW)
$278
$258
Web App + Extension Pro toolkit(NEW)
$844
$299

Amazon Seller's Bundle
$49.87/monthly
$24.9/annually

Amazon Seller's Bundle
(First Link) Chrome Extension Per Month
$44.99
$44.99
Chrome Extension Per Year
$95
$95
Chrome Extension Pro Lifetime
$199
$179
Basic Web App
$29.99/month
$29.99/month
AMZScout offers both the Chrome extension and the web app. I personally highly recommend the AMZScout chrome extension. This extension covers the basic features like estimate sale, FBA fee, tracking and a lot more.
Keep in mind: The Est Revenue is not profit you need to deduct the product fee and the shipping fee to find out the profit.
Three nice little features that I like in AMZScout chrome extension are Product Score, Get Keywords and Find at Alibaba.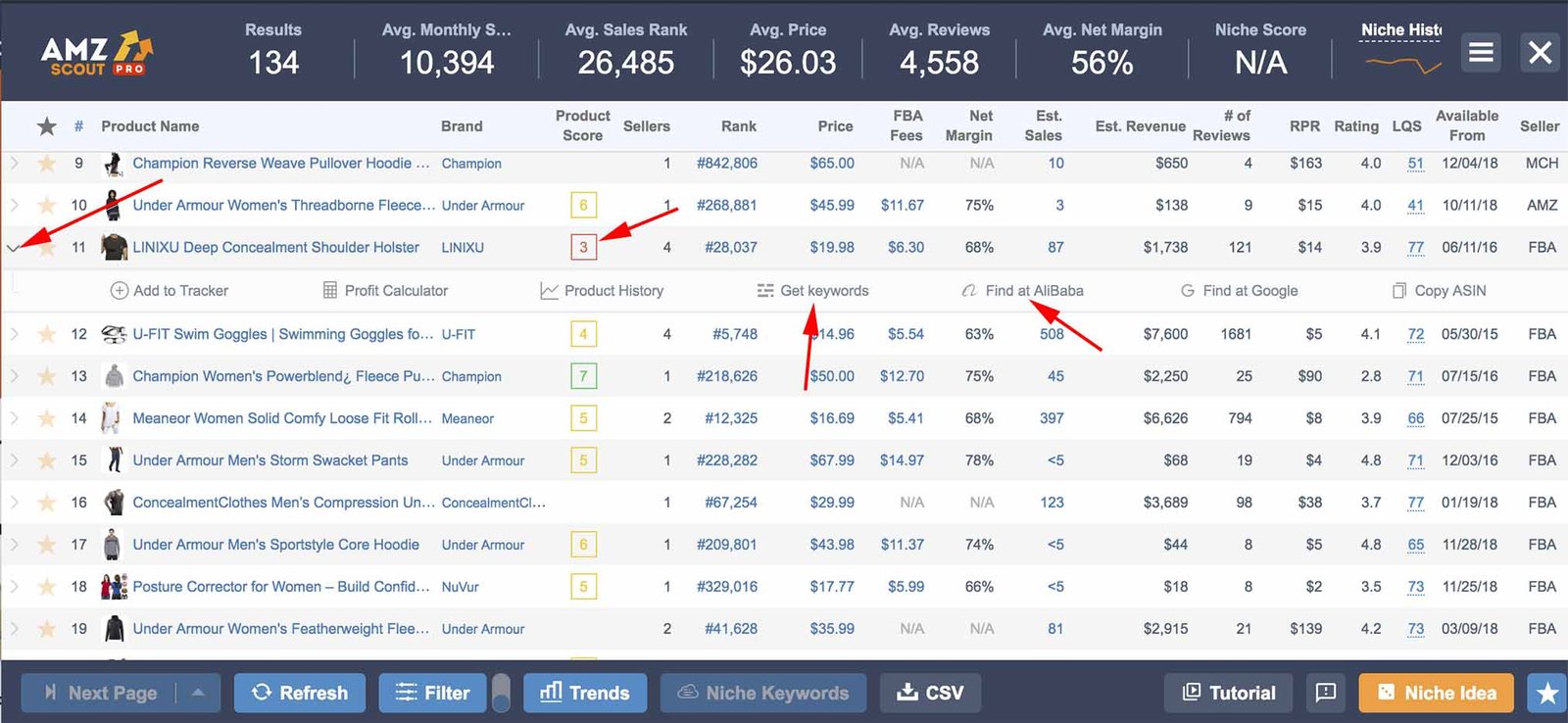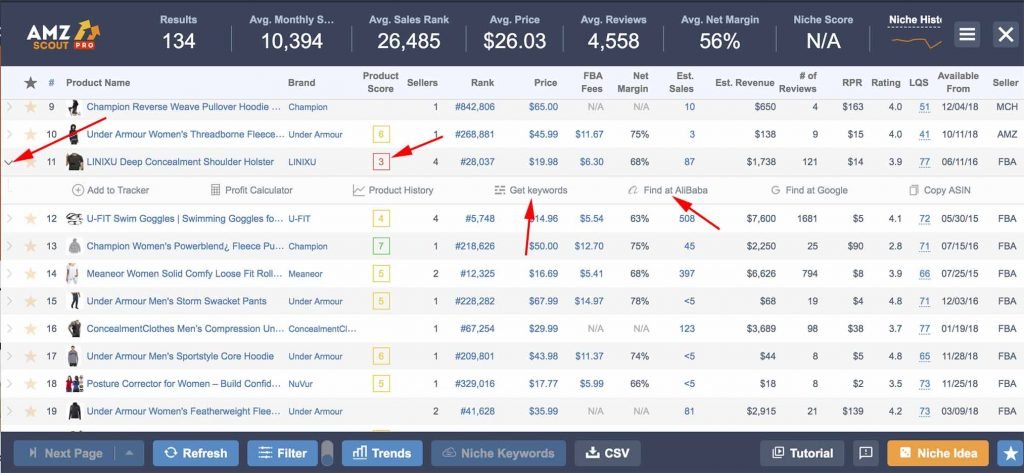 Product Score: I have tested this feature on my own products and I have to admit this is not 100% correct. But it is really reliable and if you considering to add new more items to your store make sure to check out this number. If this number is less than 5 you may need to think twice before adding it.
Get Keywords: If this feature does not work(does not pull the keywords) in most cases it means the item is sort of new. I think it mostly works on products that have been on Amazon for more than a year.
Find at Alibaba: This feature may not find the exact supplier on Alibaba but it definitely helps to get the idea of sourcing channels. Alibaba button will take you straight to the page with the sought product on Alibaba website.
AMZScout Data Analytics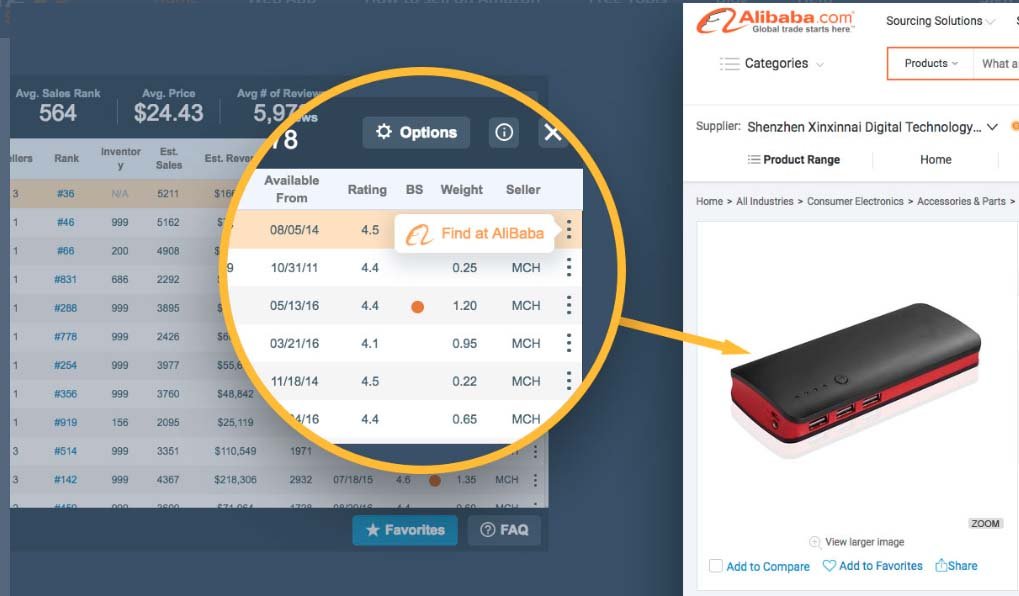 If you finally decided to start in a certain niche these features will save you a lot of time of finding the right supplier on Alibaba.
AMZScout FBA Calculator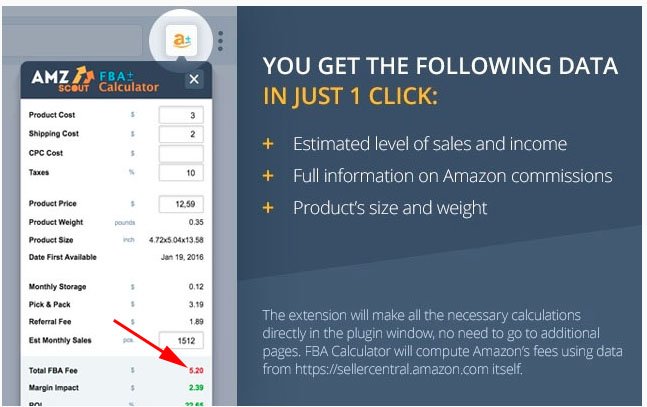 AMZScout FBA Calculator is another free Chrome extension that can help you estimate your revenue and helps you extend your sales across different countries. In the US market, you may need to add another 50 cents(roughly) to the total FBA fee amount to make your calculations more accurate. Also, consider the fact that you pay for the shipping of the item that customer returns not Amazon.
AMZScout Full Keyword Trend History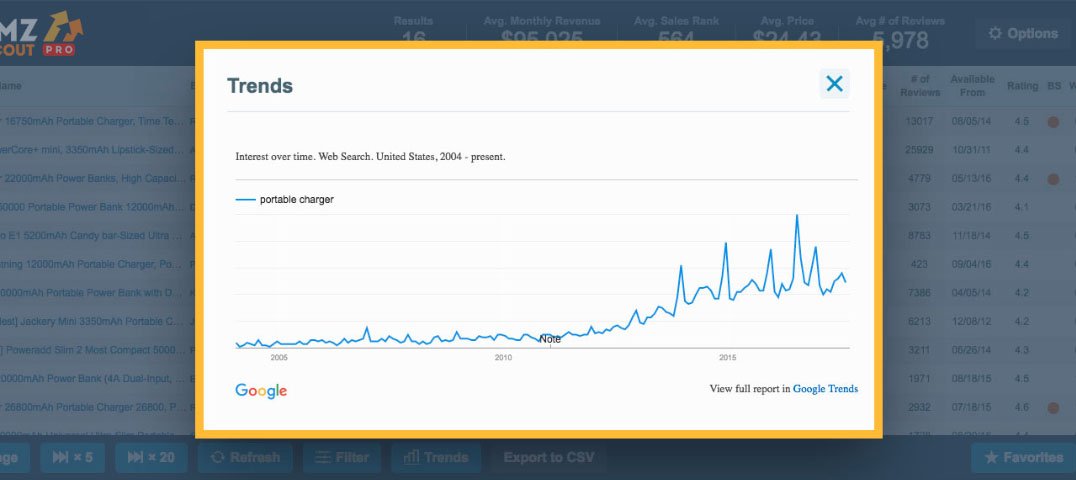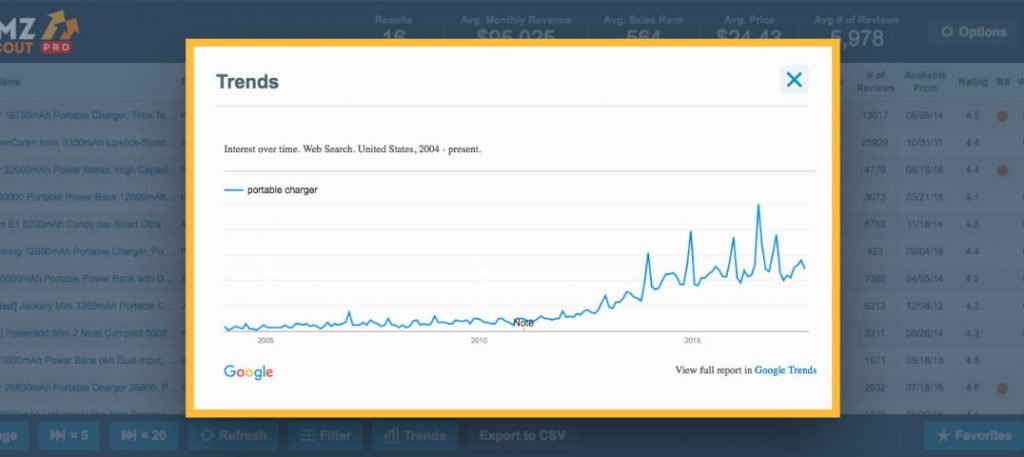 This feature is part of chrome extension which can help you find the period when the keyword and the product became more popular or less popular. This can help to find the seasonal element to make sure you choose the right time.
AMZScout Sales Estimator

Knowing the exact product sales is a great help before adding a new product to the store. AMZScout sales estimator practically underestimates the sales which are more acceptable than overestimation. So the actual number should be a bit more than what you see on the AMZScout estimator.
AMZScout Product tracker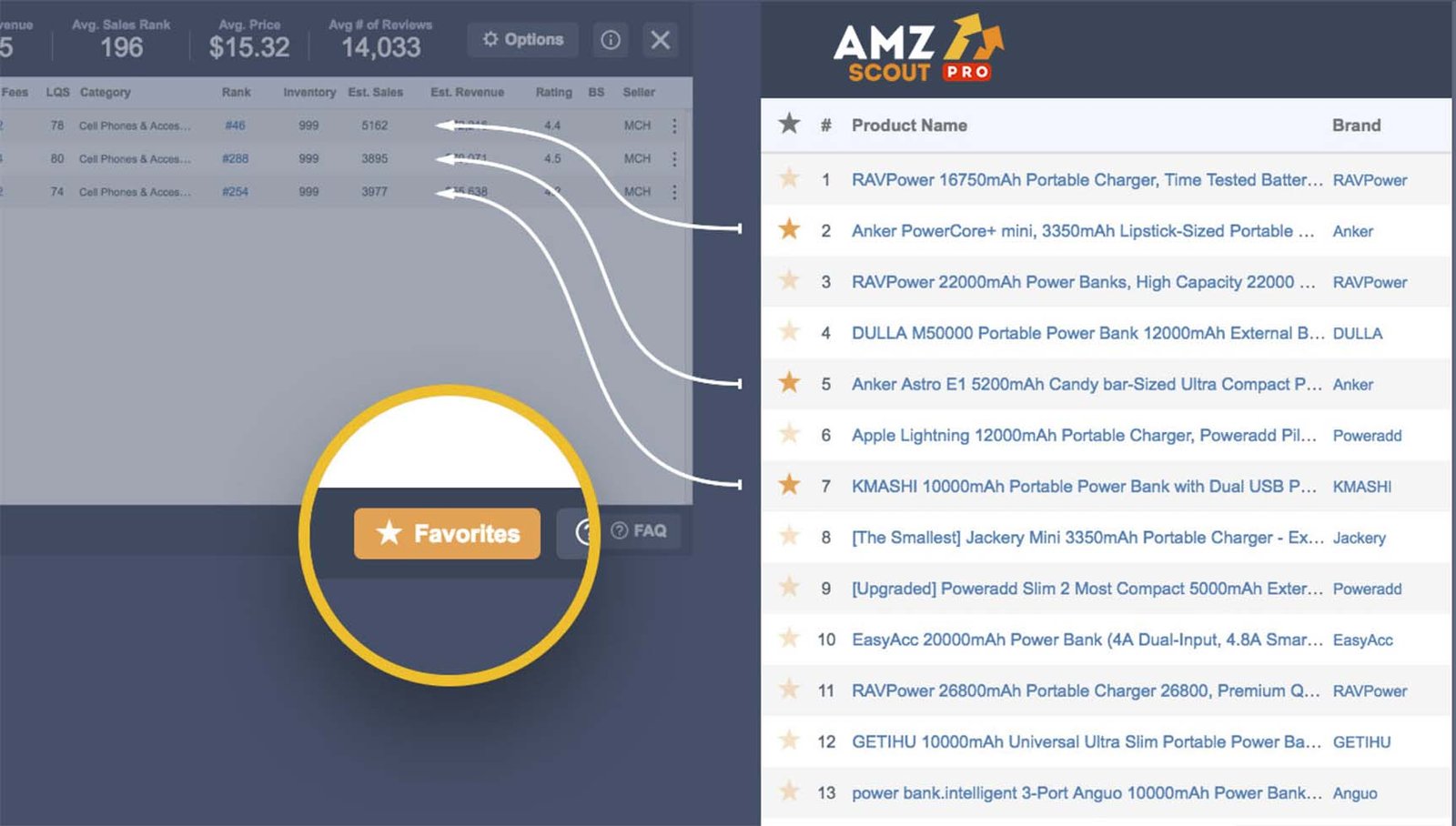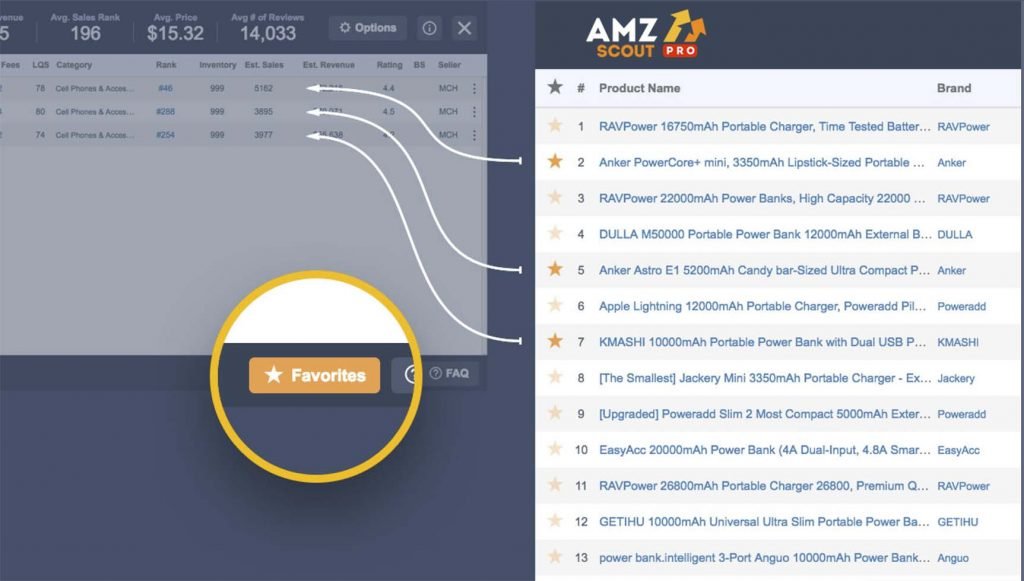 This web app feature lets you choose products you put the eye on, save and track them for later. You can use this feature to monitor your competitors' daily sales. You can also add your favorites in a special section and download and upload them later.
The good thing about AMZScout chrome extension is you can get 7 days free trial which gives you enough time to check out full features of the product and see if it is the right fit for you.
Jungle Scout Review, Pricing – 50% OFF Discount Coupon Code and Features
Use any of the links below to access Jungle Scout Discounted Price

| Product Name: | Price: | Discount Price: |
| --- | --- | --- |
| One month of Jungle Scout | $49/month | $39/month |
| Jungle Scout & Extension | $207 | $149 |
| One Year of Extension | $228 | $179 |
Jungle Scout is the first Amazon product research tool in the market and they provide both chrome extension and the web app that comes in Lite and Pro versions.
I will look into the web app before getting to the Jungle Scout chrome extension features. One of the products of the web app is product database. It has a lot of options that can help you drill down into Amazon's catalog and find your next potential product. I personally like the exclude and include filters that can save you a lot of time finding your next product. In the seller, the section makes sure to tick the FBA if your product is going to be fulfilled by Amazon.
One thing to consider is Jungle Scout slightly overestimates the sales so bear that in mind if you are going to use this product only! I recently noticed they have been improving the estate though.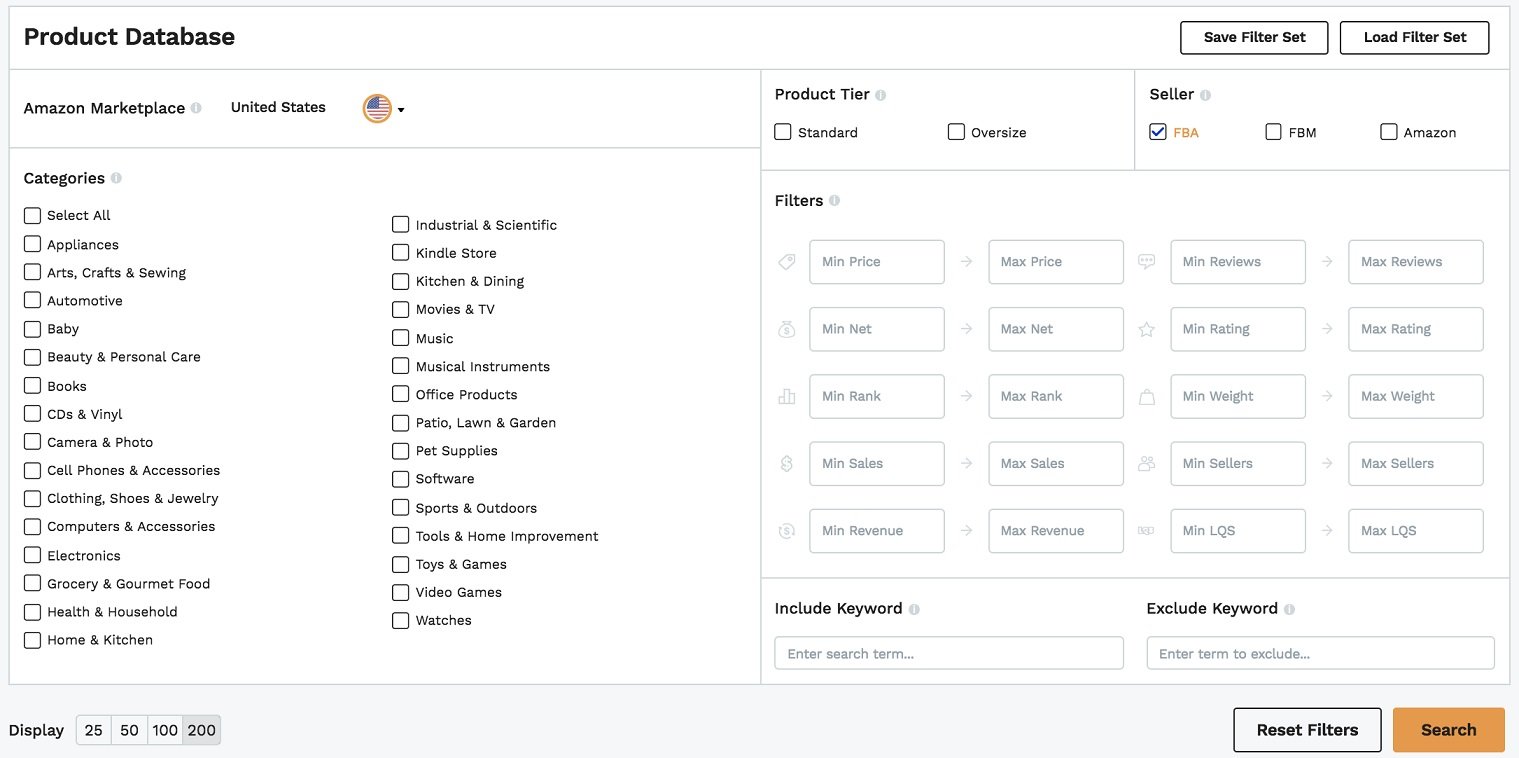 Jungle Scout Product tracker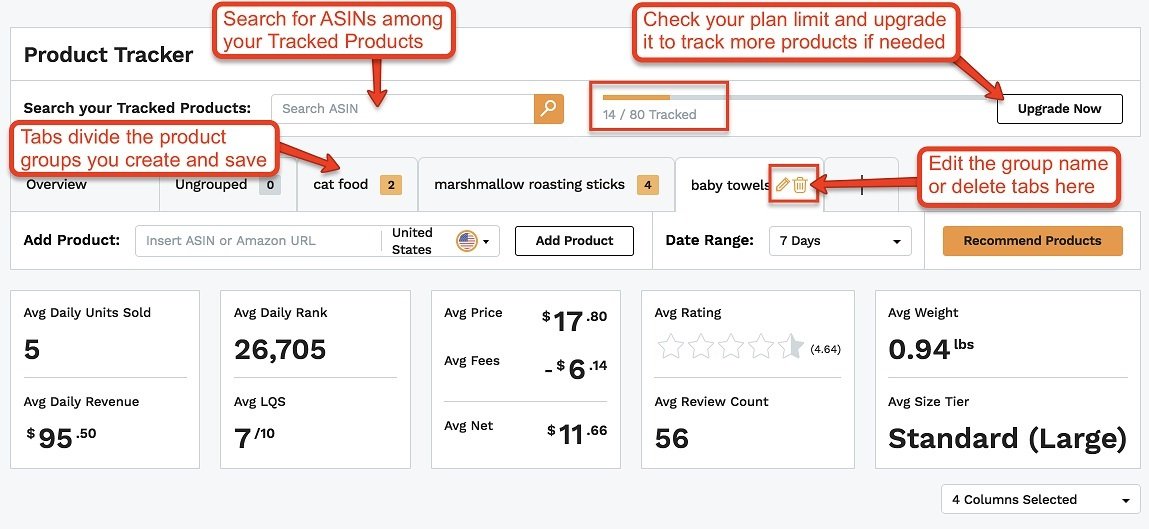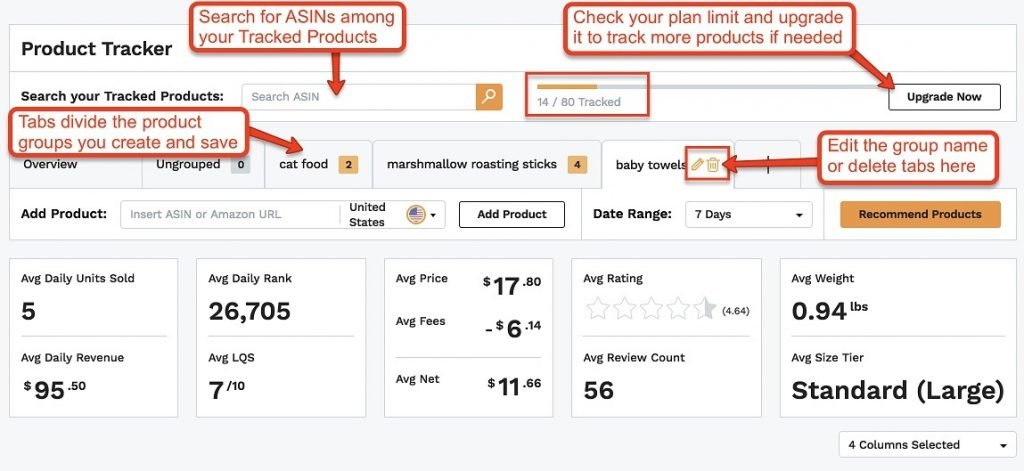 Product Tracker is another web app product that can help you compare your selected products and your competitors so you can make the best decision when it comes to choosing a new product.
This tool provides information about a product like the daily data tend in sales. You can also set the dates for a certain number of days so that you cantle if the product is selling consistently or not. This can help you avoid investing in products that are seasonal and not consistent.
Jungle Scout Keyword Scout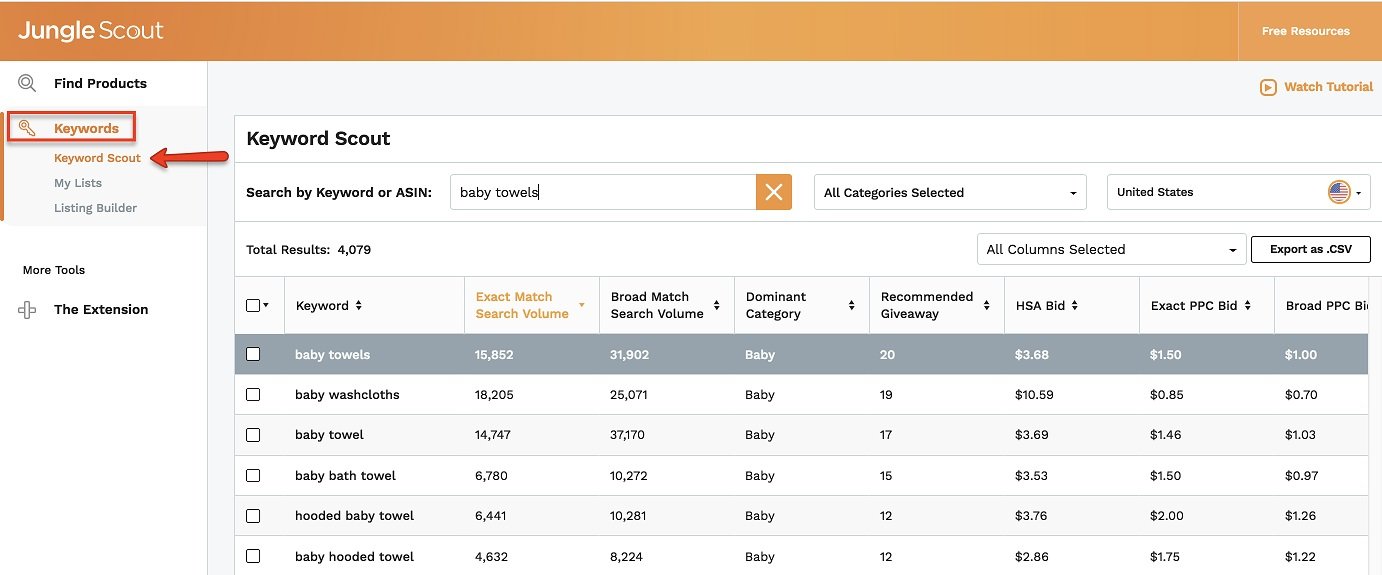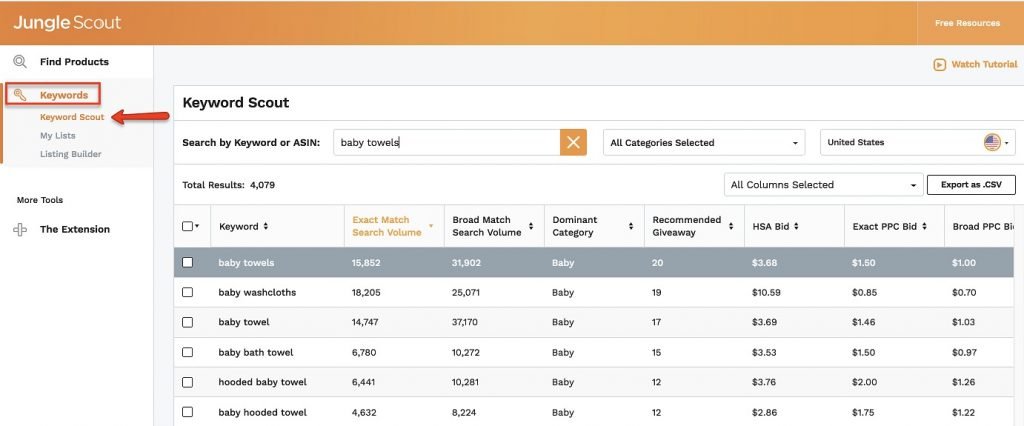 keyword scout is a newer addition to the web app family. As you know keywords are crucial when it comes to the raking of your Amazon listing. This feature is included at no extra cost as part of all subscription plans. Here are the main benefits of this feature:
Get hundreds of keyword suggestions by searching with a keyword or competitor ASIN.
Know the exact and broad search volumes for high-converting keywords.
Estimate how many daily Jump Send(Jungle Scout email automation tool ) promotional giveaways are needed to rank your product.
Suggested bids for Amazon PPC and HSA ads.
Here is a short video on how you can use the keyword scout feature of jungle scout to find great keywords and rank your listing higher using the right keywords.
Advantage of keyword scout form other competitors:
This feature is already part of all three packages of the web app and there is no upcharge to access this feature which is great.
Keyword Rank Tracker


With jungle scout keyword rank tracker, you can track certain keywords organic ranks over time for any product.
This enables you to see historical search rank and understand the performance of your launch and listing optimization and enhance the saved keywords from the keyword scout.
The Lite version contains all the basic features that should be enough to let you perform good product research. It covers the most important feature which is estimating sales. Here are some of the features that you can see in the Lite version:
Average monthly sales
Average sales rank
Average price
Average reviews for the product you choose
It also shows the Product name, brand, price, category, rank, est sales, est revenue, number of reviews, rating, and seller type of searched product.
There is also an option of "Extract Next Page" where you can see the products listed on the next page.
Opportunity Finder


If you starting out or already selling on amazon and not sure about your next niche or product, Opportunity Finder can help you find product niches to sell.
It also gives you historical data with chart s and graphs so you can see how the product has performed over time. So you can tell if the product is seasonal or not.
Supplier Database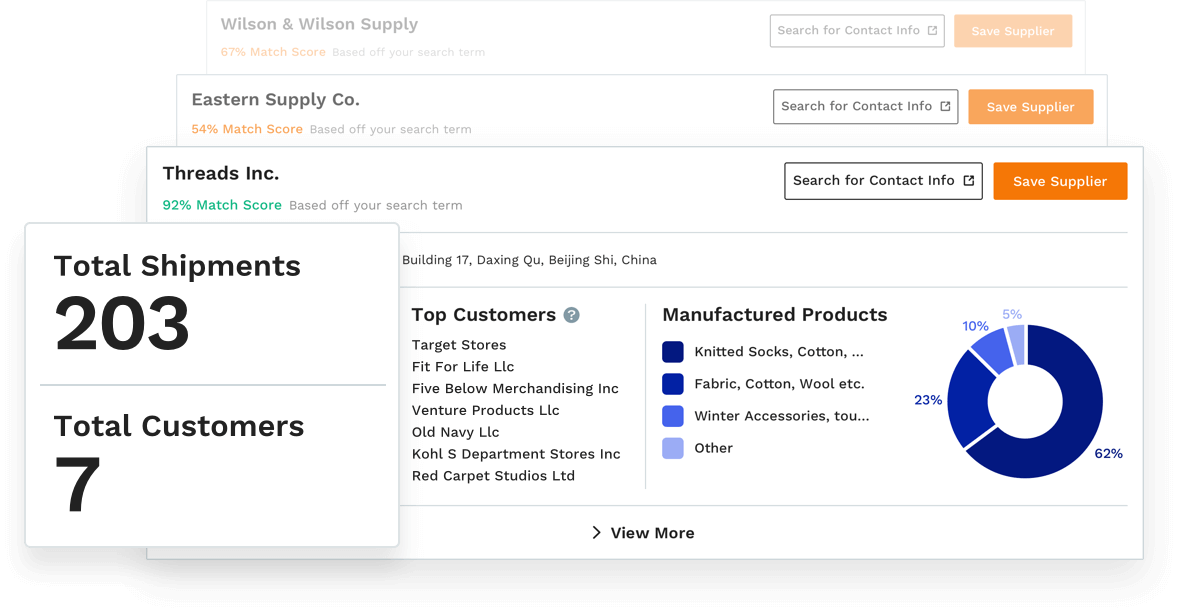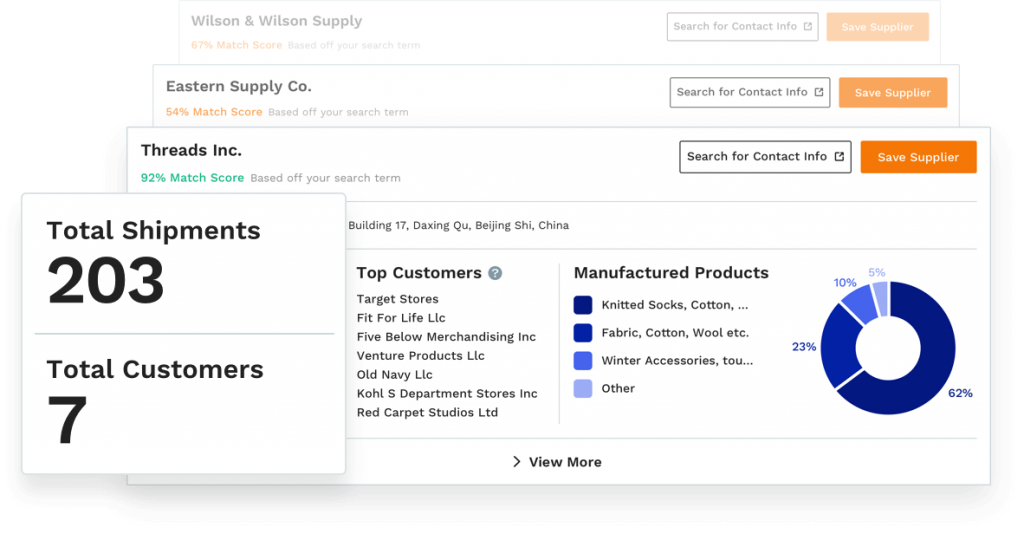 Jungle Scout Supplier Database is a good help to find legitimate global suppliers. Through this tool, you can validate known suppliers checking their confirmed shipments and the number of customers.
Alerts
Since more people are starting to sell on amazon, jungle scout alerts can help you to be on top of the product you sell or monitor. Jungle scout Alerts helps to keep an eye on major business metrics and set custom alerts for changes in product rating, prices, seller rank and more so you can take immediate action.
Inventory Manager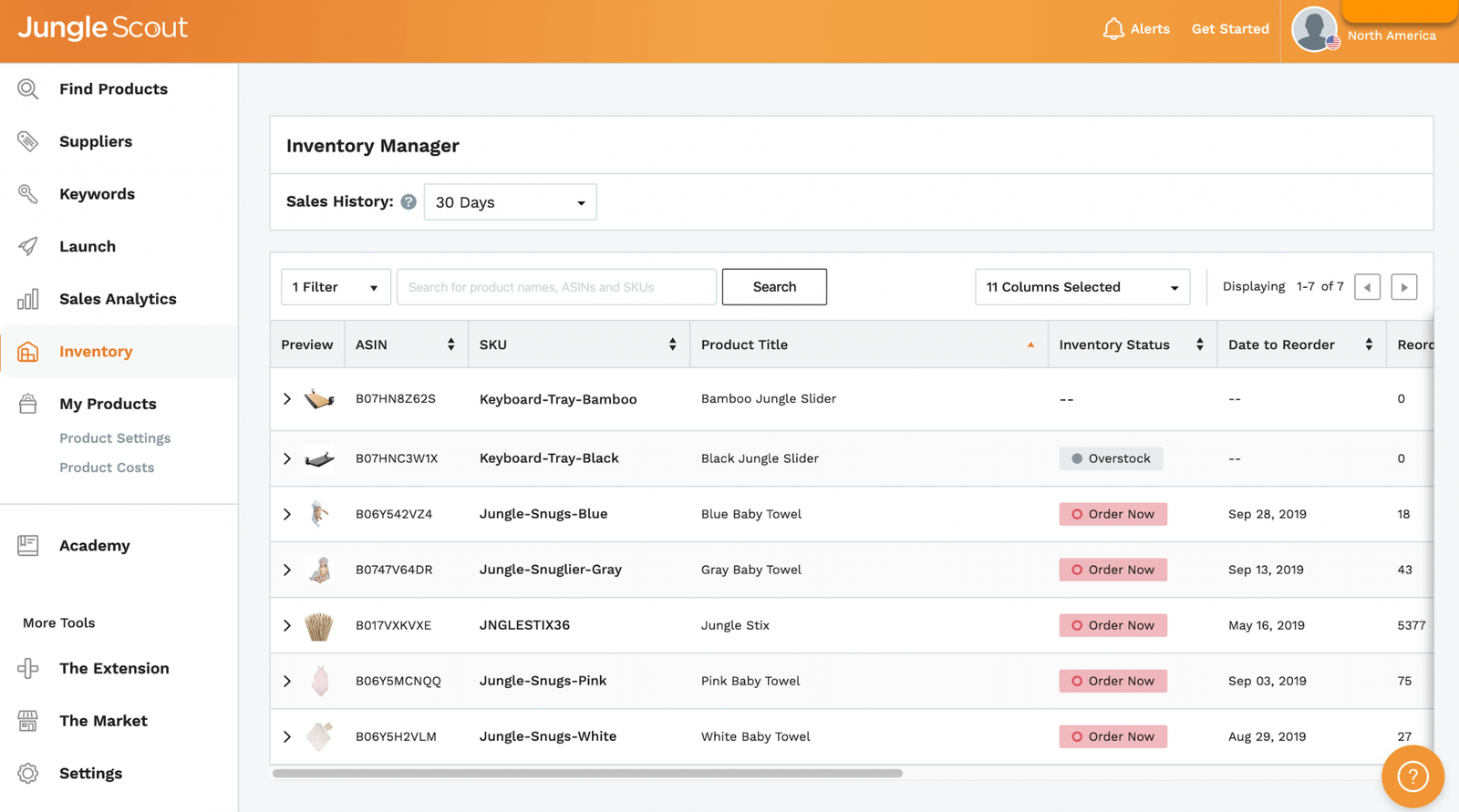 As you already know if you run out of inventory for a couple of days and don't replenish your inventory on-time your listing will automatically go down. This means fewer sells and less profit for you. If you over-order you may have your products sitting in the Amazon inventory for more than 6 or 12 months and be penalized with long-term storage fees.
Jungle scout inventory manager calculates your inventory needs and informs you when you need to replenish your inventory so that you dot run out of innovatory and you avoid over-ordering.
Jungle Scout Sales Analytics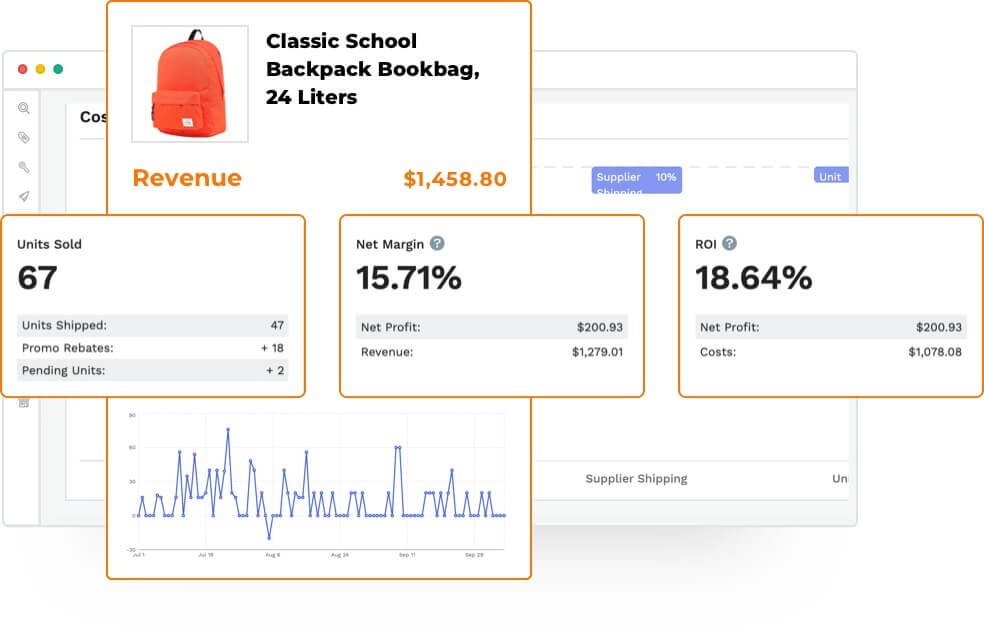 Jungle Scout Sales Analytics can help you make more money with Amazon FBA by tracking and organizing your FBA sales in real-time.
You can check specific products using ASIN or SKU to monitor the performance of that product that includes revenue, shipping cost, PPC campaign performance, unique sales and more. Using this information you can customize your expense to make most of that product.
Academy
Jungle scout academy is can be a really good tool for someone who just wants to start selling on Amazon. It is designed by Jungle Scout founder & CEO Greg Mercer who is apparently Amazon 8 figure seller.
Through the academy, jungle scout provides an environment where you can learn how to start your first product and grow your business. They also provide online forums and monthly Livestream training that can be a great help to increase the skills of new or even old sellers.
Jungle Scout Bootcamp
If you have already started on Amazon or if you are just a beginner, you know you can find a lot of valuable information online. However, that may take you a bit of time and you may even need to go through try and error or even lose a bit of money just to learn how to do things right.
If you would like to speed up the process if you take Jungle Scout Bootcamp. It is probably one of the most complete courses for selling on Amazon coached by award-winning 8-figure Amazon seller Greg Mercer. I would not say you need to have it to start selling on Amazon. But this can save you time and money by following someone who has made millions of dollars doing what you are trying to do.
Jungle Scout Chrome Extension
Jungle Scout chrome extension has a number of features that will help enhance the research process. This extension has fewer options than AMZScout but one of the advantages is the speed. It's definitely faster software than it's competitors. If you have the budget I would recommend to have both since it's a one-time payment. Jungle Scout does not offer a free trial though.
Jungle Scout Chrome Extension: Pro
Here are additional features(columns) that you can find on Pro version:
Opportunity Score.
Sales Item profit calculator.
FBA Fee estimator(this one is really important).
Historical Monthly Sales.
Dimension & weight of the item.
Pro's
No monthly subscription.
Pretty fast tool in comparison with other tools.
Con's:
It only works with the Chrome browser.
Not very accurate on low volume products.
Read Next: All You Need To Know About Entrepreneurship
Jungle Scout vs AMZScout Which One is Better?
Jungle Scout is a quicker software but used to overestimate the sales, however, I noticed they have enhanced this issue and is performing better than before. They also have the largest and oldest database of products in comparison with others. I would say either of those options can help you get started selling on amazon.
It is better to have two different software at the same time, it is up to you, but if you want more accurate data it is better to have estimates from two different software so in case there was a huge difference between the two results you can tell one of them is not right.
Viral-Launch Review, Pricing Discount Coupon Code and Features
Use any of the links below with Viral launch discount coupon code "reviewsclear" and enjoy the discounted price 😉

Viral launch is another useful Amazon product research tool but on top of that, it has features that can help sellers to have a successful product launch. Viral launch has its own launching features that can take care of your giveaways if you decide to do for your launch.
But you have to be careful with keywords that you select if Amazon thinks you are cheating the algorithm they can literally ban so be careful with giveaways.
Virl launch has also a keyword research tool that is reasonably accurate, listing optimizer, product photography and more.
Using this platform is like having Jungle Scout Pro extension, merchant words and product database all in one.
Apart from all those features that other competitive products have they have added keyword contains which can help you save a good amount of time while you do your product research.
Viral Launch Market Intelligence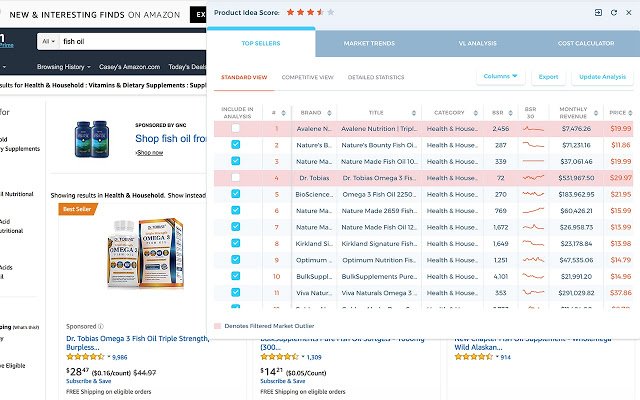 This feature processes a lot of historical and real-time data to generate sales trends which is a great help for sellers who are looking for in-depth data about the market.
So this feature ranks the products by categorizing them from 1 to 5 so when a product has a rating of 5 it means it can perform pretty well. It is not 100% correct but it can be a good help.
Keep in mind if a product has a rating of 5 does not mean you are 100% going to make money from it. You still need to do more research using broader keywords, but it still a good tool to save you time and money on bad products.
Viral Launch Keyword Research

One of the nice features of this product research tool is the fact that you can select different markets.
Viral launch uses Amazon's history of convergence to find it's keywords and does not only look for a keyword from the top sellers, and it is pretty similar to Merchant Words that I don't really recommend. Merchant words use Google and Amazon to find it's keywords, however, you mostly need to focus on Amazon for accuracy.
Using this tool can be a great help to get a list of underperforming and top-performing keywords and use the top-performing ones for your listing keywords.
The keyword research tool is not included in all plan on Viral launch although Jungle Scout provides this feature on all plans.
Launch Feature

They have basically improved this feature as they use to have keywords to select which was a bit risky since Amazon does not like cheating their algorithm.
Targeting certain keywords when you launch can be a great help to rank fast but if Amazon thinks you are cheating the algorithm they could even ban your FBA account(that feature is gone apparently).
This feature can be a great help for a great launch as you can set the date and the price to sell more. A great launch is very important because if you rank your product in the first few weeks after launch, it is going to be on the first page for a long time if it is a good product. This is going to make you a lot of sells and money for a long time…
Jungle Scout vs Viral Launch Who Wins?
They both are great tools to start and scale your Amazon business. However, viral launch provides a bit more accurate data and their web app and chrome extension have more features and functionality especially when you launch your product.
However, as I said before it is better to have two different software at the same time, so in case there was a huge difference between the two results you can tell one of them is not right. By two software I mean you can use the Viral launch web app and Jungle Scout chrome extension and check both for every product you are thinking to add to your store. If you don't want to have two software at the same time I probably just go with Viral launch.
Related Topics:
How to start your dropshipping business today here.