What is Salehoo?
Salehoo is a New Zealand-based wholesale supplier directory service that connects dropshippers to suppliers. This is going to be a big help in your dropshipping business. Salehoo is not a direct supplier, so they do not sell you any products. It is an online tool that enables you to search and compare suppliers and products. You can search for products to sell by product name, brand, and category.
How Salehoo Works?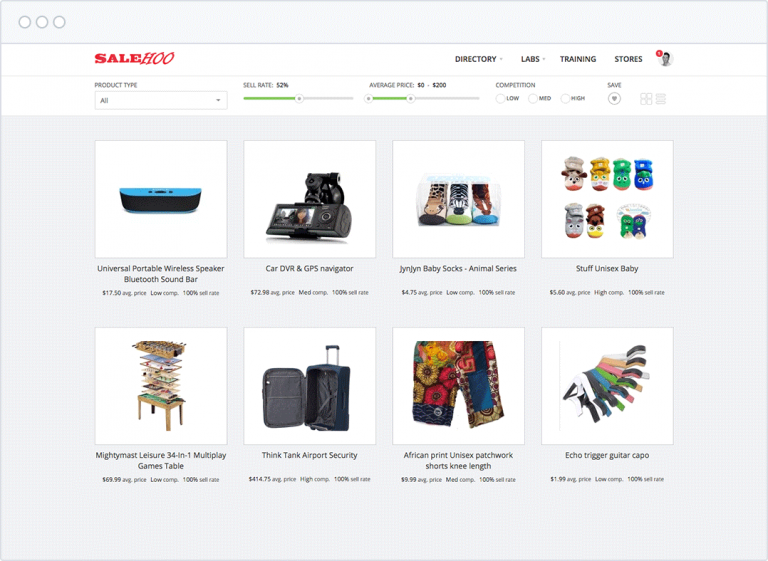 You can use the lab to search and find profitable products that you can sell, Once you have selected a product, use Salehoo's directory to find suppliers that sell that product. You can use Salehoo's outreach templates and contact a few suppliers to see if they are the right fit and find out the prices and shipping time-frames.
You can sell a product on an online store, eBay or wherever else you plan on selling. After you make a sale, you buy the product from one of the suppliers in the directory and they will ship the product right to your customer.
You can also buy the products in bulk and ship them to your warehouse, in this case when after you make a sale, you have to ship the items yourself to your customers from your warehouse. This method usually yields better profit margins but can be a bit riskier because you have to buy the products upfront and you have to have enough space for inventory.
Pricing:
Salehoo is offering its directory for only $1 for a 7-day trial. After that, it costs $67 for the year. It is considerably less than its competitors. Their biggest competitor is Worldwide Brands and it's over 3 times the price(they do have a larger directory though). They also offer a 60-day money-back guarantee which shows how good they are because they put their money where their mouth is.
Pros & Cons:
pros
Access to 8,000 verified suppliers that offer 1.6 million genuine products, You can sell products from top brands like Disney, Victoria's Secret, Sony and more.
Makes it easier to find products to sell and build relationships with different suppliers.
The 60-day money-back guarantee, which protects your purchase in case you are not pleased by Salehoo.
Cons
You may be able to find the products listed in the directory with cheaper price elsewhere.
You have to pay $67 a year for a list of suppliers that you can practically find on your own(but you are basically buying time).
Salehoo is missing location-based searching capabilities so you won't be able to find suppliers in a specific location.
Read Also: What is Dropshipping & How To Create a Dropshipping Store with Shopify & Aliexpress(Start Your Dropshipping Business Today!
Is Salehoo Scam?
Salehoo's staff screen suppliers before adding them to the Salehoo database, which helps to prevent scam suppliers getting in. Like with most good wholesaler directories, all of the suppliers in Salehoo have been screened to weed out scams. Salehoo also offers a 60-Day Money-Back Guarantee so Salehoo is definitely not a scam. Salehoo may not be the best tool for sourcing products, but it is definitely a legit service that you can use to find products to sell.
Final Thoughts:
Salehoo takes all the stress and concern out of the dropshipping process. They've done all the hard work for dropshippers by validating the suppliers and their products which enables them to sell genuine branded goods, which can be the main concern when dealing with Asian suppliers since the fakes are just so good and you don't want your customers to be duped.
Their membership fee can be a bit of a drawback, but the benefits are significant and the library of educational materials, training resources, and tools available more than cover the small upfront cost.
If you do not mind paying $67 a year for a wholesale directory and You do not have the time to search for suppliers on your own. Using Salehoo is recommend If it does not work for you, you can get always get your money back. At least, you will get the opportunity to get your feet wet and start building business contacts and relationships with suppliers.
| Product Name: | Salehoo |
| --- | --- |
| Founders: | ‎Simon Slade‎ & Mark Ling |
| Launch: | 2005 |
| Recommended: | YES! |
| Official Website: | Click Here |